LSC-Tomball TRIO Talent Search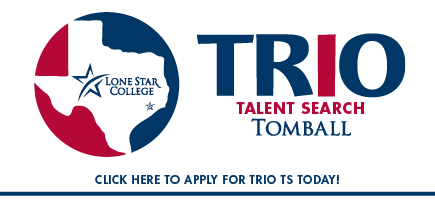 Welcome to the TRIO Talent Search (TS) program at Lone Star College-Tomball. TRIO TS is a federally funded program designed to provide a variety of FREE support services to help students successfully complete secondary school and prepare them to complete a postsecondary education of their choice.
Although priority is given to students that are first-generation and low-income, we have limited space available for additional students. First-generation is defined as neither parent having earned a bachelorís degree.
Services Provided
Academic Advising
Academic Tutoring
College Campus Tours
Cultural and Educational Activities
ACT/SAT Preparation Assistance
Student Workshops
Parent Workshops
Career Exploration Assistance
Leadership Development Opportunities
Assistance with College Applications and the FAFSA
Scholarship Assistance
Financial Literacy Workshops
ACT/SAT Exam Fee Waivers
And much more!
Participating Schools
Schultz Junior High
Tomball Memorial High
Waller Junior
Waller High School
Willow Wood Junior High
The TRIO Talent Search project of Lone Star College-Tomball is 100% funded by the U.S. Department of Education with an annual budget of $277,375.

For more information please email: TC-TRIOTS@lonestar.edu
Make LSC part of your story.