Uproar, Lone Star College-University Park's student literary/arts journal, is published every spring. Any LSC-University Park student enrolled in a credit course may submit pieces or join the staff.
Uproar Reception 2023
Wednesday, April 19 | Noon - 2 p.m. | B13.2 Hallway Near UHD
Join us as we reveal the 2023 Uproar Magazine. Get a free copy of Uproar signed by the artists and writers!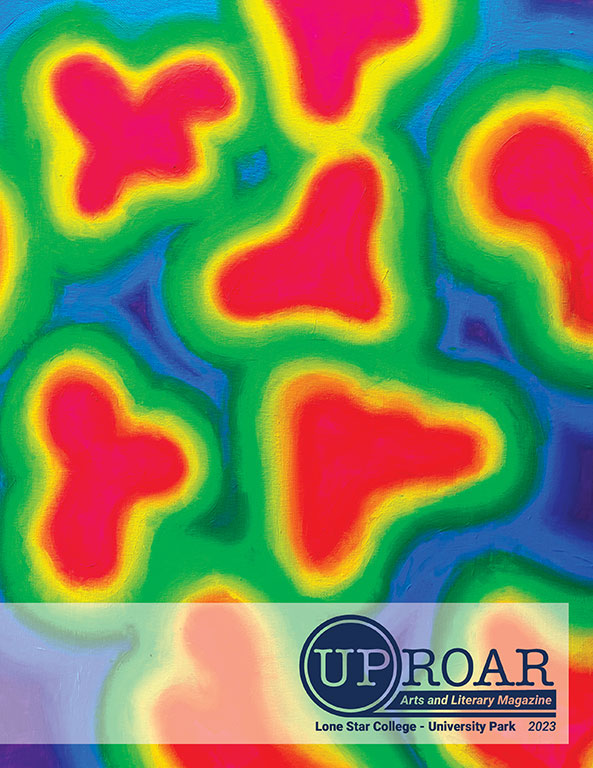 To view prior issues, click the images below.
For submissions, questions, or comments, email Uproar@LoneStar.edu.
Every piece submitted will be entered into the Uproar Contest. Entries will be judged by faculty members, who will select an art piece for the cover and first, second and third place winners in poetry and in prose. First- through third-place winners will receive gift card awards worth $100, $75 and $50, respectively. The artist who creates the artwork selected for the cover will receive a $100 gift card.
Uproar Faculty Advisors
Greg Oaks Greg.E.Oaks@LoneStar.edu
Kari Breitigam Kari.Breitigam@LoneStar.edu
Amy Young Amy.M.Young@LoneStar.edu
The Uproar Board Members
Paula Khalaf
Chelsea Davis-Bibb
Sarah Ray
Make LSC part of your story.