LSC-University Park English Department

The Lone Star College-University Park English department offers courses that teach students to think for themselves and become culturally diverse while providing a strong foundation in academic writing and critical thinking. Students benefit threefold: academically, professionally, and personally.
Credit English classes include English 1301 and English 1302, which focus on composition and rhetoric techniques, and the research process. Upper-level courses on British, American, and World Literature survey authors and their writings from various time periods. Upper-level courses in Technical Writing, Creative Writing, and Forms of Literature are also available. Classes are offered during the day, evening, and on the weekends with online and hybrid options available.
The courses below are a part of the English program at LSC-University Park:
Dual Credit Program: High school students can receive college credit by taking Dual Credit English classes while attending local area high schools in participating school districts.
International Studies Program: Taking courses that are designated as International Studies (IS) helps students from various disciplines prepare for globalization in the 21st century by systematically deepening their understanding of the world outside the U.S. Students can take courses with international focus individually or apply them to earn an Area of Concentration (AOC) in International Studies. Click here to learn more about the International Studies Courses
The Honors College: Courses in English provide students the opportunity to conduct cross-disciplinary projects utilizing a wide variety of analytical forms, including rhetorical and literary analysis, as well as creative writing.
To view the English Department Brochure, click the image below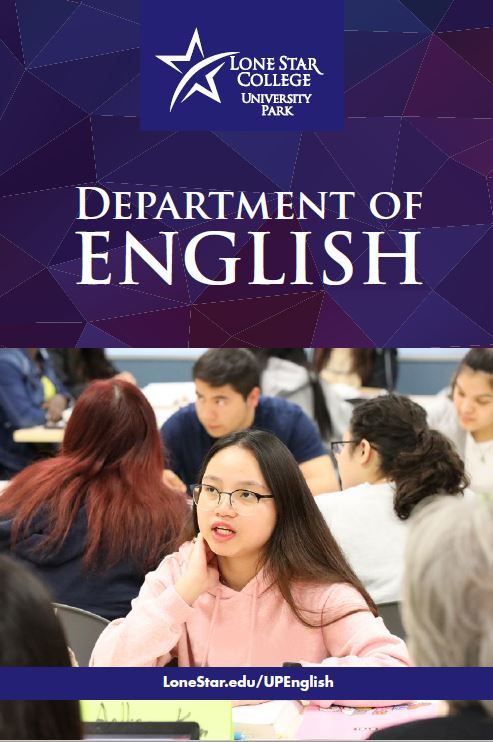 ---
Additional English Programs
Developmental English: these courses help students refine their literacy skills — reading, writing, listening and speaking — to prepare them for success in college-level courses.
English for Speakers of Other Languages (ESOL/ESL): English classes focusing on grammar, writing, reading, oral communication and pronunciation. The goal of the program is to prepare students for success in college-level courses, the global workplace and their daily lives.
---
Sponsored Organizations

ReadUP!: The ReadUP! initiative is a campus read program centered around a single book that strives to challenge students, staff, and faculty to think critically and engage in thoughtful discussion throughout the academic year. ReadUP! is designed to encourage all members of the campus community to participate in an interdisciplinary campus-wide collaboration that develops the relationship between academic learning and campus and community involvement.
Visit LoneStar.edu/readup/youth-power for more information and to join the events.
---
2021-22 English Department Calendar of Events

ReadUP!: Writing Op-Eds with Dr. Darrell Lovell
Wednesday, Sept. 8 | 2 - 3:30 p.m. | Virtual
Join Dr. Darrell Lovell, Assistant Professor of Political Science at West Texas A&M University, as he leads a discussion on writing op-eds.
ReadUP! Youth to Power Book Discussion: Finding Your Why
Friday, Sept. 17 | 10 - 11:00 a.m. | Virtual
Finding your why and finding your way are interconnected. How is your why shaping your way? Come prepared to discuss chapters 1-4.
ReadUP! You've Got Writes to be Reflective
Tuesday, Sept. 14 | 3 - 4:00 p.m. | Virtual
Students and faculty – really everyone! – has the right to be reflective. While this is an often-overlooked component of writing, it is critical to the success and health of our writing practice. Join us for exploring effective reflection strategies that offer a chance to appreciate the power of listening to your own thoughts. This will be a workshop you don't want to miss!
Constitution Day: Historical Activism
Friday, Sept. 17 | 1 - 2:00 p.m. | Virtual
Constitution Day commemorates the signing of the Constitution on September 17, 1787. This event is sponsored by Civic Engagement, the UP Library, and the LSC-UP campus read program, ReadUP. The campus read for 2021-22 is Youth to Power written by Jamie Margolin about the power of activism. The signing of the Constitution is an example of historical activism that established constitutional rights for citizens. Professor Bryan Henry teaches government courses at LSC-UP and will speak on the significance of the Constitution and the power of activism to make change.
In Plain Language: What is Tech Comm (Engl. 2311) and Why Do I Need It?
Thursday, Sept. 23 | 10 - 11:00 a.m. | Virtual
This session will explain what technical communication is, and the benefits of taking the course. We will discuss assignments such as the formal email, cover letters, resume writing, audience profiles, and simplifying language. Lastly, we will discuss various fields that require professional writing as part of the job.
ReadUP! You've Got Writes to Choose a Topic
Wednesday, Oct. 6 | 2 - 3:00 p.m. | Virtual
Writers have the right to choose their topics and explore relevant themes and ideas within the structure of writing. This workshop will focus on ways to make meaningful choices and write with personal voice and commitment. Bring a writing assignment you currently have and get ready to brainstorm!
ReadUP! Youth to Power Book Discussion: Finding Your Voice
Friday, Oct. 8 | 10 - 11:00 a.m. | Virtual
"The culture has to change before the laws can change." How can you use your voice through images, words, or actions to influence change? Come prepared to discuss chapters 5-11.
In Plain Language: Write an essay liked you eat a bear…
Wednesday, Oct. 13 | 11:30 am -12:30 pm | Virtual
How do you eat a bear, you might ask? One piece at a time. This session will explain how an essay can be approached piece by piece instead of viewing it as the page/word count due. If students only focus on one section – the introduction, the thesis, the topic sentences, etc – at a time, the blank page loses its power and isn't as intimidating.
ReadUP!: Screening of the first episode of Amend
Thursday, Oct. 21 | 6 - 7:30 | CSI Building
ReadUP! presents a screening of the first episode of the Netflix series, Amend, an exploration of the Fourteenth Amendment as the most enduring hallmark of democracy in the United States.
ReadUP! You've Got Writes to Go Off Topic
Tuesday, October 26 | 10 - 11:00 a.m. | Virtual
You may have heard the phrase "color outside the lines." Did you know that you can also write outside the lines? Writers who never think for themselves never get anywhere. Learn how and when to go beyond boundaries with your writing in this interactive workshop.
In Plain Language: Thesis Statements: What's the point
Wednesday, Nov.10 | 2-3:00 p.m. | Virtual
This session will discuss the job of a thesis statement, its placement in an essay, and how to use it as the GPS to guide the essay. Having an effective thesis statement can assist with staying focused when writing.
ReadUP! Youth to Power Book Discussion: Finding Your Balance
Friday, Nov. 12 | 10 - 11:00 a.m. | Virtual
Bring activism into your daily work. Practical tips to stay balanced and effective. Come prepared to share and discuss chapters 12-14.
ReadUP! You've Got Writes to Your Own Process
Tuesday, Nov. 16 | 3:30-4:30 p.m. | Virtual
Maybe you've heard of the writing process. It goes something like this: brainstorming, outline, rough draft, peer review, final draft. We can even get into the details of a typical paper and say that we write like this: thesis, introduction, body paragraphs, conclusion. If you've learned this method, great! But get ready to see how you might try a different way of approaching writing and hopefully one that doesn't leave you staring at a blank screen with the word "The…" at the top of the page. Share your writing process and discover tips and tricks for different ways to approach writing.
ReadUP! You've Got Writes to Write Badly
Wednesday, Dec. 8 | 1 - 2:00 p.m. | Virtual
Let me tell you a secret: It's okay – maybe even more than okay – to write badly! So often we are concerned about being "right" and that impedes our success. In this workshop, we will tackle bad writing: 1) why and when you should write badly, 2) what to do with bad writing, and 3) how to make 'bad' writing 'good' writing. Join us and bring a paragraph to workshop in this interactive experience. And don't worry, it's harder to write badly than you might think.
ReadUP! Youth to Power Book Discussion: Finding Your Worth
Friday, Dec. 10 | 10 - 11:00 a.m. | Virtual
Know your worth and build a community that supports your why. How can you cultivate authentic growth for your cause? Come prepared to discuss chapters 15-18.
ReadUP! Presents: Jamie Margolin, Author of Youth to Power
Friday, Feb. 15 | 2:30 - 4:30 p.m. | West Dining
The 1963 Children's March. The 2016 Dakota Access Pipeline protests. March for Our Lives, and School Strike for Climate. What do all these social justice movements have in common? They were led by passionate, informed, engaged young people. Join Jamie Margolin, climate justice activist and author of Youth to Power in a lecture and Q&A session on effective, healthy, intersectional activism. Young people have a lot to say, and Youth to Power will give you the tools to raise your voice.
---
Event Webex Recordings
Hacking Humans: A Panel Discussion
September 8, 2020
Team Human: What's It All About
September 25, 2020
Hiding My Xenophobia: Behind Social Media
October 7, 2020
Team Human: Statement #27: Online Teaching & Learning
October 16, 2020
Trans Rights Are Human Rights: A Panel Discussion of Trans Rights, Social Media, and Technology
November 10, 2020
After viewing the recorded event, please fill out the survey, as this helps us with future programming. We thank you in advance.
Team Human: Statement #85: Community and Connection
November 20, 2020
After viewing the recorded event, please fill out the survey, as this helps us with future programming. We thank you in advance.
---
Uproar Magazine
The literary/arts magazine of Lone Star College-University Park published every spring. LSC-University Park students may submit work or join the staff.

For submission forms and guidelines, visit LoneStar.edu/UProar or the contact faculty advisers:
---
Writing Lab: The Writing Lab is located in the Student Learning Resource Center. It provides free academic coaching and additional services to help students strengthen their writing skills. Students enrolled in any course that requires any type of writing can get individual help at the Writing Center. Our professional, experienced writing coaches also provide help with resumes, scholarship and transfer applications, and even writing emails.
Make LSC part of your story.