Learn English at LSC-University Park (ESOL/ESL)

Our Mission
The mission of the Department of English for Speakers of Other Languages (ESOL/ESL) at Lone Star College-University Park is to offer English classes that prepare students for success in college-level courses, the global workplace, and their daily lives.
The program at LSC-University Park offers classes in grammar, writing, reading, oral communication, and pronunciation.
Classes are small, interactive, and taught by highly qualified instructors.
Class placement is determined by the ACCUPLACER ESL test, which can be taken in the assessment center on campus at LSC-University Park.
Upon successful completion of the program, students may register for college credit classes.
ESOL classes are also designed for students who want to find a better job and improve their day-to-day communication skills.
LSC-University Park is an innovative campus, where ESOL learners have multiple opportunities to get engaged in cultural and educational events and be a part of the community.
Register now to get the courses you want!
ESOL Course Dates:
Fall 2023: September 11, 2023 - December 17, 2023
Getting Started with ESOL Courses
Complete the Application with Personal, Contact, and Emergency Contact Information
For course selection, advising, and the ESL Placement Test, make an appointment to speak to Maximiliano Cortez to submit the completed form:

Contact Continuing Education |
Email: LSCUP-CE@LoneStar.edu |
Office Number: 281.290.2601 |
Office Suite: B13.302
(Building 13, Floor 3, Room B13.302)
The Exam is $24.00, so please bring a form of payment, your Student ID # that CE provided after you submitted your application, and a picture Identification Card
For more information regarding the Assessment Center, please contact 281.401.5314

Once you have taken the assessment results, please return to the CE Advisor (Maximiliano Cortez) to select and register for your classes
Continuing Education (CE) Advisor
Maximiliano Cortez | Maximiliano.Cortez@LoneStar.edu | 281-290-2601
Payment for CE Courses is required at the time of registration
Each course costs $335.00 (not including textbooks)
Students with International Students (H-1b, H4, L-1, L-2) Only
Cheri-Tee Ben | cheri-tee.n.ben@lonestar.edu | 281-401-5362
Continuing with ESOL Courses
During your first semester, your instructor will assess if you will progress through Continuing Education or can transition to Credit courses based on your eligibility.
Candidates for Credit Courses:
Have a valid identification as a US Citizen, Permanent Resident, or are on an International Visa (H-1b, H4, L-1, L-2)
Must be able to have High School and all prior college official transcripts sent to Lone Star College
For concerns with courses, please contact Department Chair:
Bonnie Duhart, MA/MBA/M.Ed.
ESOL, Modern Languages: FREN, SPAN
B13.865 | 281.290.5061
Bonnie.E.Duhart@LoneStar.edu
Click the image below to access a PDF of the program flowchart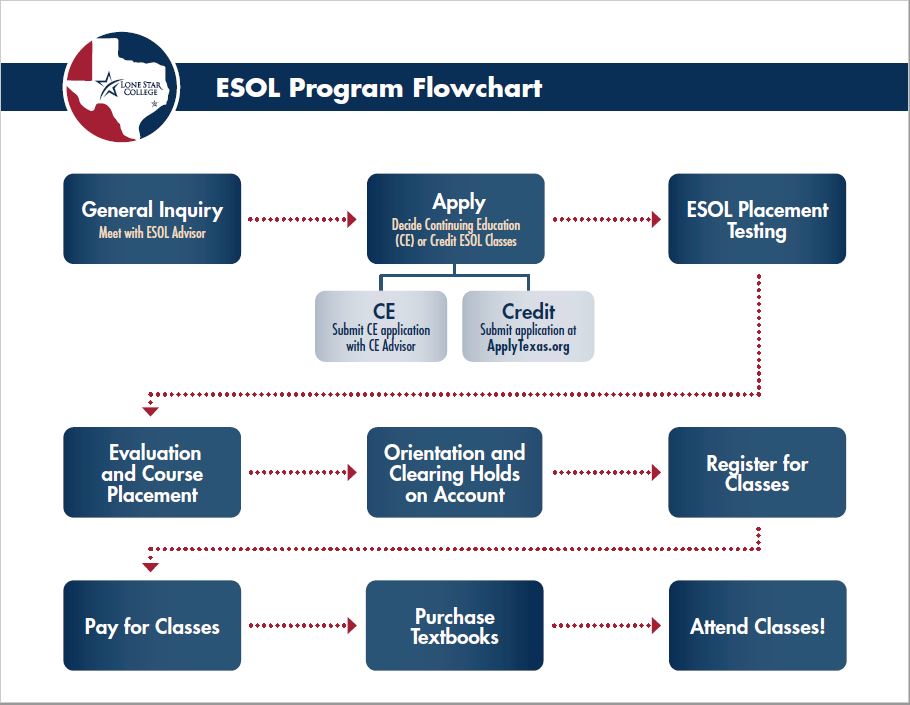 ---
ESOL Class Schedule: Spring 2024
Make LSC part of your story.