Home of Heroes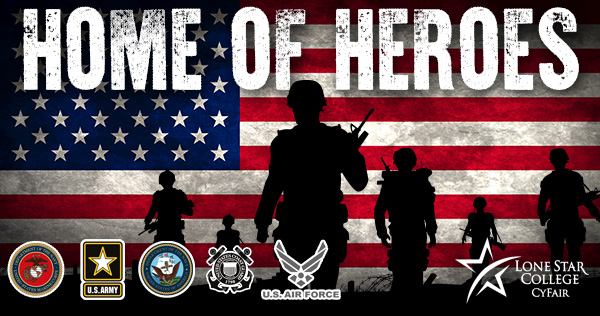 Lone Star College-CyFair recognizes our veteran students and employees. You honor us with your service!
Rudy Alanis II
LCpl (E3)
US Marine Corps
4 years of service
Forest Arnold
Captain
US Army
Active duty: 1966-1977
Army Reserve: 1977-1984
Blaze Belobrajdic
Major (O-4)
US Marine Corps
12 years active duty service.
Now serving in the Fleet Marine Corps Reserve (FMCR).
Michael Briere
Photo from 1973.
10th Special Forces Group
Stationed at Ft. Devens, Mass.
Luan Bui
E-4 Army
Thomas Chong
Captain
US. Army
8 Years of service
Edith Claridy
Third class petty Officer (MA3)
Navy
5 Years of service (2008-2013)
Master at Arms
Jeremy Clark
Sargent
U.S. Army, 101st Airborne Division
2003-09
OIF 4 & 5 (05-06)
Dave DeJohn
ABF2
Petty Officer 2nd Class
US Navy
8 Years of Service
Pablo De la Torre
Specialist
US Army
3 years of service
Lawrence R. Evans
US Army Ret.
1970-74 US Navy Reserve Seabee
1974-1992 US Army Air Defense
1992 US Army National Guard
2005 Communications
Nduku Fabrice
Specialist
US Army
4 years of service
Cismar Green
US Marine Corps
Dr. J. Rodney Grisham
Lieutenant
US Navy
4 years of service (1968-1972)
Miguel Gutierrez
AM 3rd Class Petty Officer
US Navy
5 years of service (1998-2003)
Houston Hedspeth
LCPL / E3
6423 Aviation Electrician, 2m Solder Technician
US Marine Corps
8 years of service
Dashae Hill
Specialist
US Army
4 years of service
Michael Jaster
Chief Petty Officer (Ret.)
US Navy
Deployed 4 times (with the Seabees and other units)
Active duty as well as reserve service.
Philip Jones
DK3 (SW)
Rank E-4
US Navy
4 years of service (2001-2005) aboard USS Abraham Lincoln CVN 72
Brandon Lane
US Marine Corps
Gilbert S. Leonard
Lieutenant
US Navy
9 years of service (1964-1973) aboard USS Charles R. Ware (DD-865)
Kevin McCoy
PFC
US Army
3 years of service (1997-2000)
Stationed at Ft. Drum
Eduardo Monsivais
Gunnery Sergeant
US Marine Corps
21 years of active duty service
Lawrence Norris
TSGT
US Air Force
20 Years of active duty service (?1976-1996)
Oscar Perez
Chief Warrant 4 CW4
US Army
33 years of service (active and reserved combined)
Dawoud Rivas
E-4
US Navy
4 years of service
Melissa Rosson
US Air Force
Rene Ruiz
US Army
Daniel Sawyer
Corporal (CPL)
US Army
4 years of service (2003-2007)
Sarah Sharpe
E-4 Corporal
US Marine Corps
4 years of service (2006-2010)
Chelsea Smith
Private First Class
US Army
3 years of service (2011-2014)
Rebecca Smith
Specialist
US Army
4 years of service (1993-1997)
Jimmy Stewart
E3
US Navy
6 years of service
Michael Thorn
Sargeant
US Marine Corps
4 years of service
Robert Tonry
Staff Sergeant (E-5)
US Air Force
4 years of service (1977-1981)
Sindy Valladares-Ramos
E-5/Sgt
US Marine Corps
Javier Zuleta Velasquez
Sergeant First Class (Ret.)
US Army
16 years of service
Kristoffer Villareal
Sargeant
US Army
5 years of service (2000-2005)
Sandra Wages
IT2(AW) - Information Systems Technician 2nd Class (Air Warfare)
E-5
US Navy
5 years of active duty service
Dustin Walters
LCPL
US Marine Corps
8 years of servoice (1998-2006)
Andre Watkins
US Marine Corps
31 years of service