Healthier U Wellness Expo and Job Fair
Annual Healthier U Wellness Expo & Job Fair: Providing Scholarships for Lone Star College-Montgomery Students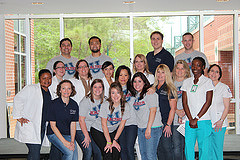 Lone Star College-Montgomery's 22nd Annual "Healthier U" wellness expo, and job fair will be Wednesday, April 3, through Friday, April 5. The college's community-wide event promotes healthier living in the community while raising funds to supply scholarships for all students who actively participate in the annual event."It is not easy for students to begin a professional program in healthcare due to overwhelming financial and timing commitments," said Joe Garza, Healthier U event coordinator. "So, for the past 21 years the faculty and staff at LSC-Montgomery have joined together with the community to sponsor this major event to help lessen that burden some of our students bear."
According to Garza, more than $20,000 was raised last year, enough to provide $500 scholarships for 20 students.
Booth Sponsors Support Our Students!
Businesses who offer a health-related service to the community (medical- or fitness-related, emotional well-being, or even financial health) showcase their products and services at the Wellness Expo and Job Fair on Thursday, April 5. Booths include displays, educational or interactive games, healthcare screenings, videos, informal consultations, and giveaways.
Booth sponsorship levels for Healthier U 2018 are: Platinum($1,500); Gold ($1,000); Silver ($500); and Bronze ($250), with increasing benefits at each level. All levels included company recognition on the events T-shirts, a table(s) and skirting, materials transportation and booth set-up assistance, refreshments, and of course, publicity before, during, and after the event.
Thank You Sponsors!
Sponsors for the 2018 event include Lone Star College-Montgomery at the Platinum level.
The Bronze level sponsors include DAVAM Urgent Care; European Wax Center; Full Psycle; North Harris Montgomery Advanced Nurse Practitioners; Northside Lexus; Rodgers Stein Chiropractic Center; Trajecsys; and Urgent Clinics Medical Care.
Want More Information?
Contact Joe Garza at 936.273.7075 or joe.a.garza@lonestar.edu