Current Students
|
LSCS Locations
|
LSC-Montgomery Campus
|
Healthier U Wellness Expo and Job Fair
Healthier U Is Coming — Wellness Expo & Job Fair Set for April 3-6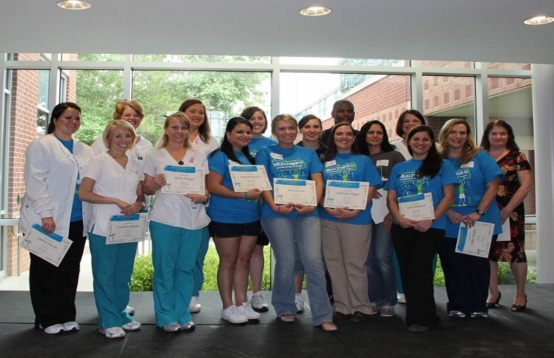 Sponsor a Booth and Support Our Students!
Lone Star College-Montgomery is seeking booth exhibitors and sponsors for Healthier U, a community-wide wellness expo, job fair, and golf tournament that provides scholarships for students while promoting healthier living in the community.
The event takes place April 3-6. Any business that offers a health-related service to the community (medical- or fitness-related, emotional well-being, or even financial health) is invited to showcase their products and services and/or screen employee candidates at the Wellness Expo and Job Fair on Thursday, April 4. Popular booth ideas include displays, educational or interactive games, healthcare screenings, videos, informal consultations, and giveaways.
"Healthier U is a lively and pleasant venue where sponsors can network with others, gain potential clients, and promote their services," said Katie Halbert, Healthier U event coordinator. "Sponsorship is a win-win situation for both the local businesses and our students."
The booth sponsorship levels for Healthier U 2013 are: Platinum ($1,500); Gold ($1,000); Silver ($500); and Bronze ($250), with increasing benefits at each level. All levels include a table(s) and skirting, materials transportation and booth set-up assistance, refreshments, and of course, publicity before, during, and after the event.
If you are interested in being a sponsor, see the entire Sponsor Packet
here
. Click
here
for the registration form.
2013 Event Line-Up
Lace up your sneakers and stretch out your legs for an event that's sure to get your heart pumping! Healthier U, Lone Star College-Montgomery's annual wellness expo and job fair, is set to take place April 3-6. The proceeds raised from the weeklong event provide scholarships for students in health-related and other academic programs at LSC-Montgomery.
Here's the line-up of events:
Wednesday, April 3
Blood Drive
9 a.m.-3 p.m. (Health Science Center, Bldg. B)
Crock Pot Cook-off & Sweets Bake-off
Sampler Sale: $3 per person, includes food, drinks, and dessert
All sale proceeds go toward student scholarships.
11 a.m.-1 p.m. (Health Science Center, Bldg. B)
Register here for the Crock Pot Cook-off & Sweets Bake-off
Silent Auction
Bid on items from a variety of local merchants, restaurants, and organizations. All sale proceeds go toward student scholarships.
10 a.m.-2 p.m. (Health Science Center, Bldg. B)
Thursday, April 4
Wellness Expo & Job Fair
There will be demonstrations, exhibits, products, and presentations from a variety of vendors. Plus, several businesses will be seeking candidates, so bring your resume and be ready for informal interviews. There is no cost to attend.
10 a.m.-2 p.m. (Health Science Center, Bldg. B)
Awards Ceremony
The scholarship recipients for 2012, as well as upper-level and long-running sponsors will be recognized.
12 p.m. (Health Science Center, Bldg. B)
Silent Auction continues
10 a.m.-2 p.m. (Health Science Center, Bldg. B)
Friday, April 5
Maverick Open Golf Tournament
Advanced registration is required.
River Plantation Country Club
Saturday, April 6
5K Fun Run and 1-Mile Walk
Registration is at 8 a.m.; Race starts at 9 a.m. (5th Floor of Campus Parking Garage)
There is no cost, but donations for student scholarships are accepted. Jogging strollers and leashed dogs are welcome.
All events are open to the community, and no registration is required (except for the golf tournament).
Maverick Open Registration
Golf team registration for the Healthier U Maverick Open is still available, along with specific golf tournament sponsorships. Registration for a team of four for the tournament only is $325; a scholarship-only sponsor is $250; and a hole sponsorship is $500.
The golf tournament will be held at River Plantation Country Club in Conroe on Friday, April 4. Pre-registration is required.
Click here to see more details on the Maverick Open.
Want More Information?
Like LSC-Montgomery Healthier U on Facebook to stay up-to-date on event details. Still need something else? Contact Katie Halbert at 936.273.7012 or khalbert@LoneStar.edu.