Healthier U Wellness Expo and Job Fair
Healthier U Is Coming — Wellness Expo & Job Fair Set for April 8-10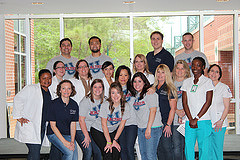 Lone Star College-Montgomery invites you to get healthy at their 18th Annual "Healthier U" scholarship event, a community-wide wellness expo, job fair, and golf tournament that provides scholarships for students while promoting healthier living in the community.
The event takes place Wednesday, April 8,through Friday, April 10, and proceeds supply scholarships for students primarily in the nursing, radiologic technology, physical therapist assistant, fire science technology, and emergency medical technician programs.
"It is not easy for students to begin a professional program in healthcare due to overwhelming financial and timing commitments," said Joe Garza, Healthier U event coordinator. "So, for the past 18 years the faculty and staff at LSC-Montgomery have joined together with the community to sponsor this major event to helplessen that burden some of our students bear.
According to Garza, more than $34,000 was raised last year, enough to provide $500 scholarships for 68 students.
Sponsor a Booth and Support Our Students!
Bethani Duncan, a physical therapist assistant student, was just one of last years Healthier U scholarship recipients.
"This scholarship has allowed me to pursue my goals by focusing on my education and not finances," said Duncan, who hopes to work with the Cancer Treatment Centers of America. "It feels amazing to have people that believe in me and have the confidence enough make an investment in my future."
Any business that offers a health-related service to the community (medical- or fitness-related, emotional well-being, or even financial health) is invited to showcase their products and services and/or screen employee candidates at the Wellness Expo and Job Fair on Wednesday, April 8, or Thursday, April 9. Popular booth ideas include displays, educational or interactive games, healthcare screenings, videos, informal consultations, and giveaways.
The booth sponsorship levels for Healthier U 2015 are: Platinum ($1,500); Gold ($1,000); Silver ($500); and Bronze ($250), with increasing benefits at each level. All levels include company recognition on the events T-shirts, a table(s) and skirting, materials transportation and booth set-up assistance, refreshments, and of course, publicity before, during, and after the event.
If you are interested in sponsorship opportunities in the 2015 Healthier U Wellness Expo and Job Fair, fill out the Sponsorship Form.
2015 Event Line-Up
Tentative Scheduling:
Healthier U 2015 begins on Wednesday, April 8, with a heart-healthy cook-off, job fair, silent auction, community speaker and more. The blood drive, interactive and sponsor booths, silent auction, and awards ceremony to recognize the Healthier U scholarship recipients for 2015, as well as the Platinum- and Gold-level sponsors, will continue through Thursday, April 9. The golf tournament concludes the event on Friday, April 10.
With the exception of the golf tournament, most activities take place on the LSC-Montgomery campus from 10a.m.-2 p.m. All events are open to the community.
Maverick Open Golf Tournament Registration
Additionally, golf team registration for the Healthier U Maverick Open is still available, along with specific golf tournament sponsorships. Registration for a team of four for the tournament only is $320; a team of four for the tournament and hole sponsor is $400; and hole sponsorship only is $250. The golf tournament will be held at River Plantation Country Club in Conroe on Friday, April 10. Pre-registration is required.
If you are interested in participating in the 2015 Maverick Open golf tournament, fill out the Sponsor Form.
Thank You Sponsors!
Lone Star College-Montgomery appreciates last year's sponsors: Architectural Floors/Mohawk Group, Chem-Aqua, Connect 2 Health Chiropractic, Conroe/Montgomery Physician Associates, Exer-Tech, Inc, Follett Higher Education Group, Jim Wall, JobSparx, KBR, Laraway Family Dentistry, Letsos Company, Lisa Rickord, Life Fitness, Lifetime Eyecare Associates, Lone Star Family Health Center, PBK, Physicians ER-The Woodlands, Quality of Life Chiropractic, Sam's Club, Douglas Scherr,Signs by Tomorrow, Surfset Fitness-Houston, Synergy Radiology Associates, Texas Waffle Company Ltd., Vanguard Environments, Wayne Gosbee, and South Montgomery County YMCA.
Want More Information?
Contact Joe Garza at 936.273.7075 or joe.a.garza@lonestar.edu