Healthier U Wellness Expo and Job Fair
Annual Healthier U Wellness Expo & Job Fair: Providing Scholarships for LSC-Montgomery Students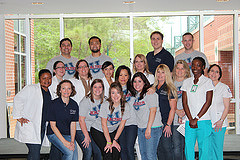 Lone Star College-Montgomery's 20th Annual "Healthier U" wellness expo, job fair, and golf tournament will be Wednesday, April 5, through Friday, April 7. The college's community-wide event promotes healthier living in the community while raising funds to supply scholarships for students primarily in the nursing, radiologic technology, physical therapist assistant, fire science technology, and emergency medical technician programs.
"It is not easy for students to begin a professional program in healthcare due to overwhelming financial and timing commitments," said Joe Garza, Healthier U event coordinator. "So, for the past 20 years the faculty and staff at LSC-Montgomery have joined together with the community to sponsor this major event to help lessen that burden some of our students bear."
According to Garza, more than $16,500 was raised last year, enough to provide $500 scholarships for 21 and $100 to 6 students.
Booth Sponsors Support Our Students!
Businesses who offered a health-related service to the community (medical- or fitness-related, emotional well-being, or even financial health) showcased their products and services at the Wellness Expo and Job Fair on Thursday, April 6. Booths included displays, educational or interactive games, healthcare screenings, videos, informal consultations, and giveaways.
Booth sponsorship levels for Healthier U 2017 are: Platinum($1,500); Gold ($1,000); Silver ($500); and Bronze ($250), with increasing benefits at each level. All levels included company recognition on the events T-shirts, a table(s) and skirting, materials transportation and booth set-up assistance, refreshments, and of course, publicity before, during, and after the event.
Maverick Open Golf Tournament Registration
Healthier U Maverick Open registration is open to teams or sponsorship only. Registration for a team of four for the tournament only is $320; a team of four for the tournament can sponsor a hole for $500, $1,000 or $3,000; and hole sponsorship only is $250. The golf tournament will be held at River Plantation Country Club in Conroe on Friday, April 7. Pre-registration was required.
2016 Job Fair Employer Attendees
Assisted Living Cottages
Avatar Home Health Care
Community Urgent Care
Compassionate Care-MEDRelief Staffing
Curves
Devita
Harris County Healthy System
Job Sparx
Premier Vision
Kelsey Seybold Clinic
Methodist Willowbrook Hospital
Nannies of The Woodlands
Northwest Oral and Maxillofacial Surgery
Nurse Finders (Healthcare & Medical Staffing Agency)
Vision
Silverado Care
Stern Empire Laboratories
Unlocking the Spectrum
UTMB
Whelan Security (EMT)
Thank You Sponsors!
Sponsors for the 2016 event include LSC-Montgomery Office of the President and HCN serving at the Platinum level.

The Bronze level sponsors include UTMB Correctional Medical Care; Quality of Life Chiropractic; South Montgomery County YMCA; Trajecsys Corp.; Rodgers Stein Chiropractic; Montgomery County Hospital District; Sam's Club and Park Manor.

Golf Sponsors include Crossroads Baptist Church; Follett; Buckalew Chevrolet; Waffle House; Shimadzu Medical Systems; Exer Tech; Prism Electric; Life Fitness and LSC-Montgomery.
Want More Information?
Contact Joe Garza at 936.273.7075 or joe.a.garza@lonestar.edu