Summer Spirit Challenge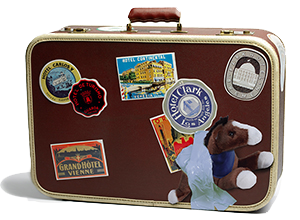 As you enjoy much-needed time away this summer, consider taking part in the Summer 2015 Spirit Challenge: "Monty-Bear–Don't Leave Home Without Him!" Similar to last year's challenge, we want your photos from high, faraway and unique places. Here's how the Spirit Challenge works: All full- and part-time employees, as well as interested students, will receive a special "Monty-Bear" (Maverick teddybear). Take a picture of you with Monty Bear as you hit the trail this summer. There will be a prize for the furthest from LSC-Montgomery and the highest elevation. Not traveling this summer? Then be creative! There will be a prize for the most creative/original photo. Tex-cation, is another category, and a prize will be given for the best photo taken in the state of Texas. Don't forget Monty Bear when you pack your suitcase!
Here are the rules:
A picture must be taken of YOU with Monty Bear.
You have from 12:01 a.m., May 9, through midnight, August 9, to take your picture and submit it. No entries will be accepted before or after that time period.
There will be a prize for:

Distance from LSC-Montgomery;
Height above sea level (airplane travel doesn't count!);
Originality/creativity
Tex-cation
Best selfie
One entry per person per category is allowed.

Entries will be shown at the college's Fall 2015 "Welcome Back" Convocation in August, in the Performing Arts Center (D100).