College Preview Days
Visit Lone Star College-University Park!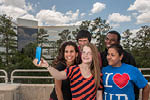 Are you thinking about your next step after you graduate from high school? Do you want to stay in the Northwest Houston area while still earning a degree? Would you like to find out more about completing the equivalent of freshman and sophomore level coursework at a price much more affordable than a four year university? Whatever your goal is, whether it is to enter quickly but effectively into a career, or to eventually earn a Bachelor's degree at substantially reduced cost, Lone Star College-University Park may be able to help.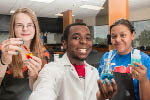 We are offering College Preview days to give information to interested students. If you are are in High School, this event may qualify as a "College Day" campus visit. The day begins 5-10 minutes before 9 a.m. in The Welcome Center with introductions. A tour will leave promptly at 9 a.m. and will be followed by a short "What's Next?" information session. The information session will cover topics related to the admissions process, academic advising including degree types and degree plans, financial aid including important deadlines, and student life. Please allow approximately 2 hours for this visit. Lone Star College informational material and promotional items will be given to student participants.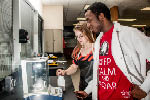 If you are a high school student, please be sure to get all necessary forms from your high school prior to visiting Lone Star College-University Park and be sure to bring them on your visit. Students must be present for both the entire tour and "What's Next?" presentation to get their "College Day" paperwork signed and stamped. College Day forms will only be stamped/signed for students who attend an official College Day listed below.
Sign up for one of the following sessions, running from 9 a.m. until 12 p.m.
By calling 281.290.3606 or email UP-Outreach@LoneStar.edu