LSC-Kingwood Alumni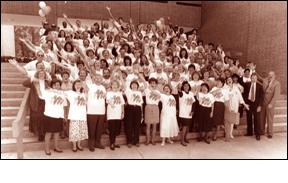 Lone Star College-Kingwood Alumni are a very important part of our history. We are forming an alumni association consisting of those who have attended a class, participated in a certificate or continuing education program, or have obtained an associate degree. Beginning with our 20th Anniversary, an annual reunion will be held to renew old acquaintances, tour new and established buildings, as well as learn more about college offerings in the continued quest for lifelong learning.
LSC-Kingwood had its start in 1972 when seeds for a Union Junior College District were planted. Who would have imagined that a pasture of grazing cows would soon give way to a bustling community college serving the needs of
students from Humble, Kingwood, New Caney, Porter, Splendora, and other communities along the U.S. 59 corridor. The 1984 opening of the East Campus, as it was known in those days, marked the realization of the original vision of W.W. Thorne and the Board of Trustees. It was Dr. Joe Airola, chancellor of the college district at the time, who turned that vision into reality.
Lester Burks, the college's first president, and Dr. Nellie Carr Thorogood, the first dean of instruction and second college president, quickly earned respect and affection as the early administrators of the college. Backed by strong administrative leadership, the founding faculty is credited with creating a strong identity focused upon instructional excellence. Under the leadership of Stephen C. Head, the East Campus became Kingwood College, and the little "College in the Woods" became a vital part of the surrounding community. Since 1999, under the leadership of Dr. Linda Stegall, LSC-Kingwood has grown exponentially. Despite increased size and diversity, the standard of excellence established by the founders remains today.
If you have ever taken a class here or graduated from one of our programs, please register as an alumni and join in our annual celebration of academic excellence.
By postal mail at:
Lone Star College-Kingwood
KWC Alumni Coordinator
20000 Kingwood Drive
Kingwood, TX 77339
By phone at: 281.312.1600