The Empowerment Center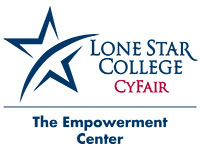 The Empowerment Center is a faculty-led initiative to resource the whole student.
College is an exciting time. It can also be a very challenging time for students of all ages and from all backgrounds.
Your Lone Star College-CyFair faculty have created The Empowerment Center for you. We recognize that not every student question or need can be addressed in the classroom.
If you have questions and don't know where to get the answers, come visit us.
Do you need food? The Food for Thought Food Pantry is available to all students. We have food to eat on campus, as well as food to take home. You may contact the Food Pantry 832.482.1019.
Do you need clothes for a job interview? The Career Closet provides a range of sizes and styles in clothes and shoes for students needing a great outfit.
Do you feel alone, like no one understands what you're going through? The Empowerment Center volunteers will help you find the right resources to address your personal needs. Counseling professionals are also available and trained to assist you in meeting your academic, career and personal goals. Counselors are available in the Empowerment Center CASA 121 or in Counseling Services CASA 109. You can contact Counseling Services at 281.290.3260.
We are The Empowerment Center. We are faculty, staff, and administrators who believe in the worth of every student and the value of every question. Come on in to The Empowerment Center, CASA 121.
Together, we will find your answers.