LSC-North Harris Medical Assisting Department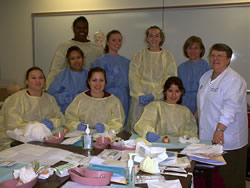 Welcome to the Lone Star College-North Harris Medical Assisting Program. This program is designed for students interested in working directly with patients in a physician office or other healthcare setting.
Medical Assistants perform routine administrative and clinical tasks to keep the offices and clinics of physicians, podiatrists, chiropractors and optometrists running smoothly.
The duties of medical assistants vary from office to office depending on office location, size, and specialty. In small practices, medical assistants may be "generalists," handling both administrative and clinical duties. Medical assistants report directly an office manager, physician, or other health practitioner. Those in larger practices may specialize is a particular area under the supervision of a department administrator or clinical spervisor.
Medical assistants collect and prepare laboratory specimens and perform basic laboratory tests on the premises, dispose of contaminated supplies, and sterilize medical instruments. They instruct patients about medication and special diets, prepare and administer medications as directed by a physician, authorize drug refills as directed, telephone prescriptions to a pharmacy, draw blood, prepare patients for x-rays, perform electrocardiograms, remove sutures, change wound dressings, and perform a variety of other procedures as instructed.
Medical Assistants may also perform many administrative duties for the office. They answer telephones, greet patients, update and file patient medical records, fill out insurance forms, handle correspondence, schedule appointments, arrange for hospital admission and laboratory services, and handle billing and bookkeeping.
SPRING 2015 Information Sessions for Medical Assisting Program Scheduled!
| | | | |
| --- | --- | --- | --- |
| Wednesday, April 8, 2015 | 4-5 pm | 6-7 pm | HPB 217B |
| Tuesday, May 5, 2015 | 4-5 pm | 6-7 pm | HPB 217B |
| Tuesday, June 16, 2015 | 4-5 pm | 6-7 pm | HPB 217B |
| Tuesday, July 14, 2015 | 4-5 pm | 6-7 pm | HPB 217B |
** HPB refers to the Health Professions Building located at 17200 Red Oak Drive, Houston, TX 77090
(corners of Red Oak Drive and Peakwood Drive behind Houston Northwest Medical Center).

5 Reasons Why You Should Choose the LSC-North Harris Medical Assisting Program
* Lone Star College-North Harris is accredited by the prestigious Southern Association of Colleges and Schools (SACS) and provides fully transferable vocational and academic credit hours towards Associates and Bachelors degrees at Texas colleges and universities.
* Low, state-subsidized tuition can be covered by Federal Pell Grants (to students that qualify), which do not have to be paid back. The entire cost of the program is not expected to exceed $5000.

* UPDATED: The Medical Assisting program is nationally accredited by The Commission on Accreditation of Allied Health Education Programs (CAAHEP) through September 15, 2015. This allows students to sit for The American Association of Medical Assistants (AAMA) Certified Medical Assistant exam, the American Medical Technologists Registered Medical Assistants exam (RMA) and the National Health Careers Association; CCMA, CMAA, CMLA or CET exams
* Our classes are taught by a Master's-prepared Certified Medical Assistant with 18+ years of experience in Pediatric, Surgical, and Family Medicine. She provides extensive training in clinical and administrative skills, which meet the high expectations of area physicians.
* Due to the quality of the training they receive, many students receive a job offer before completing the program.

Fall 2015 Medical Assisting Program at LSC-North Harris Health Professions Building

Fall 2015 applications will be available starting April 8, 2015 (the first mandatory information session). You must attend an in-person information session at HPB in order to obtain the application packet. The deadline to submit a Fall 2015 application is Thurday,July 30, 2015 by 3pm. If you wish to apply after this date, please make sure you meet the minimum criteria and visit with the Program Director or the Academic Advisor for Health and Human Services. This is a full-time, day program with classes from Monday through Thursday. Classes will begin for admitted students in August 2015. For the admissions criteria, please review the additional program requirements.

Students interested in pursuing the Medical Assisting certificate can take the following classes this summer:
You may complete POFT 1301 Business English, and/or POFT 1325 Business Math and Machine Applications
For more information about Medical Assisting, please contact Lorraine Schoenbeck, Program Director at 281-943-6830 or Juanita Garcia, Advisor at 281-943-6906.


People & Places
Dr. Bill Drees
Dean
Health and Human Services Division
(281) 618-5406

Lorraine Schoenbeck
Medical Assisting Program Director
(281) 943-6830

Juanita Garcia
Advisor
(281) 943-6906