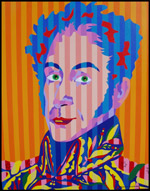 Lone Star College-Montgomery's Center for the Arts presents the artwork of Stanley Bermudez, a former Lone Star College student and adjunct instructor, with an exhibit titled "Continuity III" on display June 15 through July 8. This exhibit re-examines the portrait using a hard edge and a range of colors. There will be an opening reception on Tuesday, June 23, from 12-2 p.m. in the Mary Matteson-Parrish Art Gallery (building D).
Bermudez has been working on paintings of the human face and figure in basically three distinctive themes. The first theme is family members; the second theme is well known characters in world history, politics, literature, religion, and music; and the third theme is what he calls neo-Catholic imagery. He works with acrylics on canvas without blending any colors.
His process is very similar to the process used by Roy Lichtenstein, a popular American pop artist. However, the end result is very different. One striking characteristic of his paintings is the use of vibrant colors, which he believes comes from growing up in Maracaibo, Venezuela, and being exposed to the colors of the city, to Venezuelan folk art, to the work of the Guajiro Indians and their tapestries, as well as the work of Venezuelan contemporary masters like Carlos Cruz Diez and the late Jesus Soto.
According to Bermudez, "Viewers have found my paintings to be dynamic, vibrant, and funny, surrealistic at times, and with a pop art quality to them--all of which are readings that I want the work to have."
Linda Woodward, chair of LSC-Montgomery's art department, is excited about the exhibit.
"Looking at Stanley's work, one can see a genesis in Warhol but more of the psychological and intense emotion that reflects the context of the individual," she said. "The colors strongly evoke feelings that the artist conveys in regard to the individual. Reinventing the traditional portrait is reflective of the 21st century movement to reflect on the figure and humanity. His energy as an artist is indicative of this."
Bermudez holds a master's degree in fine arts from Radford University and a bachelor's degree in fine arts (studio art) from Sam Houston State University.
The Matteson-Parrish Art Gallery is a teaching gallery at LSC-Montgomery, and the presentations and artwork provided are free to the community. Gallery hours are Monday-Friday, from 10 a.m.-5 p.m. For more information on Bermudez, visit his Web site at: http://www.stanleybermudez.com/. For information about the arts at LSC-Montgomery visit www.LoneStar.edu/arts-montgomery.htm or call Denise Meyers at (936) 273-7021.
LSC-Montgomery is located at 3200 College Park Drive, one-half mile west of Interstate 45, between Conroe and The Woodlands. For more information about the college, call (936) 273-7000, or visit Montgomery.LoneStar.edu.
Lone Star College System consists of five colleges, including CyFair, Kingwood, Montgomery, North Harris, and Tomball, six centers and Lone Star College-University Center. With more than 51,000 students, it is the largest college system in the Houston area, and third largest community college district in Texas. For more information, visit http://www.lonestar.edu/.