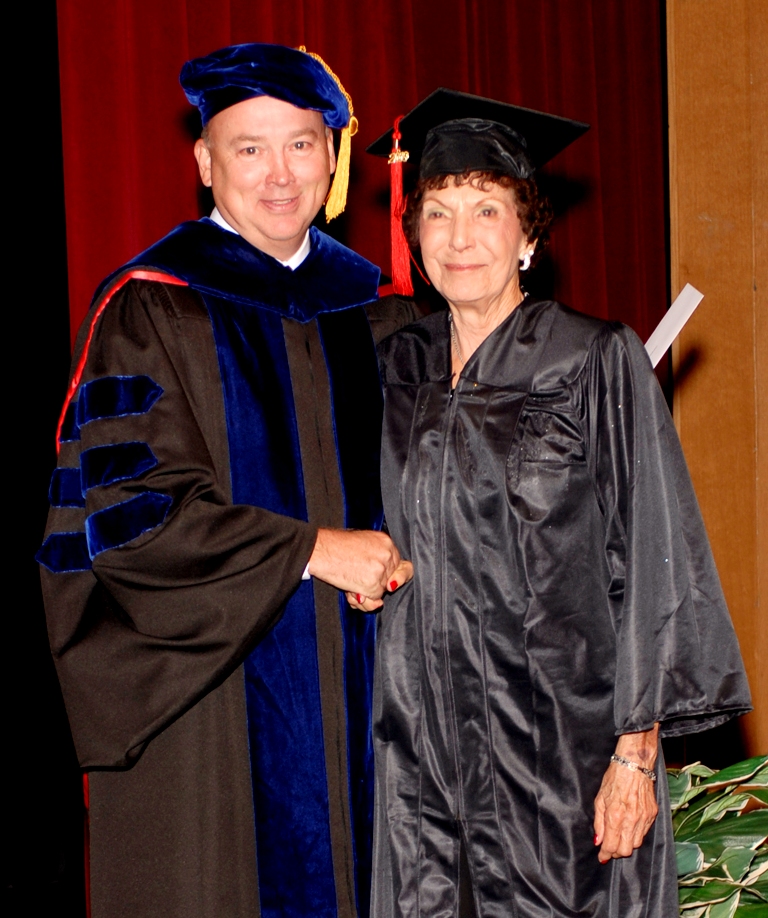 PHOTO ID
Photo credit: Binh Le Photography

Shown left to right: Dr. Steve Head, Lone Star College-North Harris, president congratulates 70½ year-old Maxiene Oldham, GED graduate and student speaker for LSC-North Harris' 18th GED Graduation Ceremony.
In 1956, Maxiene Oldham left high school after the eleventh grade to get married with the intention of completing her senior year the following fall. It never happened. Life happened.
This May, Oldham was asked to be the student speaker at Lone Star College-North Harris' Adult Education General Education Development (GED) graduation ceremony. During that speech she announced, "I am 70½ years old. Believe that you are never too old to learn."
Oldham says she started night classes the September after her junior year, but she only went for a few months. Her husband started working overtime and they only had one car, but she still had hopes that things would work out so that she could go back to night class. Her dream of completing her education was pushed further and further from her grasp. In the following decade, Oldham bore two sons and became a stay-at-home mom. Then her marriage ended and the responsibility of raising her children fell on her shoulders.
"I did make an attempt on several occasions to get my GED, but it cost more money than I had at the time. Without a GED, I had to work two jobs most of my life," says Oldham. "I missed out on a lot of things for not having my GED."
As she got older she became more embarrassed because of her lack of educational credentials. However, she encouraged her growing sons to make sure they finished high school and beyond. "They did and are very successful. I am very proud of them," she says.
In her late sixties, she was released from her job and felt the layoff was associated with her age. With few employment opportunities on the horizon, she visited the Texas Employment Agency where it was suggested she call the Northwest Assistance Ministries (NAM). NAM offers a GED program through Lone Star College-North Harris.
"Orientation started the following week. I went and that's where I met Jackie Ross who was giving the four-day orientation." According to Oldham, Ross encouraged her every day.
In January 2007, after more than 50 years, she walked into her first classroom where she met four teachers who would guide her for the next two years as she worked tirelessly through the required classes.
"These teachers–Mrs. Davis, Mrs. Thompson, Mrs. Armstrong and Mrs. Summer–had a lot of patience and believed in me," says Oldham. "I had my valleys and my mountains over my two years at NAM. I did not tell anyone I was going back to school. As my confidence built and I became less embarrassed, I finally told my family and friends."
At the GED graduation ceremony, Oldham encouraged the entire audience to move forward with their own educational dreams. Dr. Steve Head, LSC-North Harris president, presented her with a $500 scholarship to attend the college.
"After the ceremony, I had so many people who came up to me to tell me they are now going back to school. They said if I could do it, then they could do it. One person even said that he felt God was sending him a message through me," says Oldham.
Oldham currently works part time and continues to improve on her math and writing skills. She is thinking about attending LSC-North Harris next fall. "I can take a couple of courses and see where it goes," says Oldham.
The GED program was first developed in 1942 as a way to provide returning World War II veterans with an opportunity to earn a high school credential. Since then the program has served as a bridge to education and employment opportunities for an estimated 15 million people. Today, approximately one in seven high school diplomas issued in the United States each year is a GED diploma. Since 1993, LSC-North Harris began hosting GED graduations and is one of the few colleges with an adult education program that hosts a graduation ceremony to honor GED completers.
For more information about LSC-North Harris Adult Education GED program, call Marchion Wynne, program coordinator at 281.260.3572.
Lone Star College-North Harris is located at 2700 W.W. Thorne Drive, one-half mile south of FM 1960 East, between Aldine-Westfield and Hardy Roads. Registration for summer 2009 classes is now in progress. For more information about the college, call 281.618.5400 or visit: NorthHarris.LoneStar.edu.
Lone Star College System consists of five colleges, including CyFair, Kingwood, Montgomery, North Harris, and Tomball, six centers and Lone Star College-University Center. It is the largest college system in the Houston area, and third largest community college district in Texas. To learn more, visit LoneStar.edu.
Oldham first left high school in 1956 and has been on a 50-year journey to complete her education. LSC-North Harris adult education program offers any person passing their General Education Development test the opportunity to wear a cap and gown and participate in an official graduation commencement. While some students choose not to partake in the ceremony, the students who do participate enjoy an emotional and exciting event that they thought was lost to them forever. For more information about LSC-North Harris College's adult education program, call 281.260.3572.
###
C.C. Sutphen
Director of Public Relations and Special Events
Lone Star College-North Harris
2700 W.W. Thorne Drive
Houston, TX 77073
281.618.5425
281.618.7105 fax
cece.sutphen@lonestar.edu
NorthHarris.LoneStar.edu