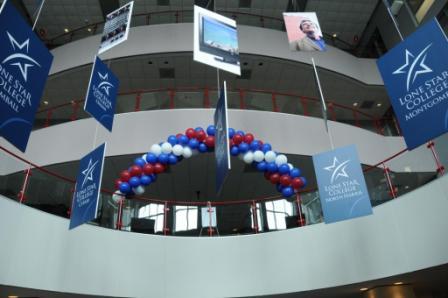 Lone Star College System officials are inviting the community to an open house on June 25 at its new facility on State Highway 249 at Louetta Road.
The site, once home to Hewlett Packard's north campus and the former Compaq Computer headquarters, has been a mystery to most northwest Houston residents – a massive, beautiful complex with mirrored buildings, that could be seen tucked away neatly on SH 249 behind security gates at every entrance.
But now, since the purchase by Lone Star College System, college officials want to open the facility to the public by having perhaps a first-ever community open house.
The open-house event is set for Thursday, June 25, from 4 to 7 p.m. and all residents are invited to come by and visit the facility.
"This will be a family type event," said Ray Laughter, vice chancellor for external affairs. Hot dogs and other light refreshments will be served at the campus as part of the open-house celebration.
The open house will include tours of the facility and information booths will be featured about various aspects of the college system, like Lone Star Corporate College and its workforce programs, along with the Lone Star College-University Center.
"There may be those who even live nearby this facility who have never had the opportunity to see what it looks like past those security gates," Laughter said. "The tours on June 25 by our staff members will actually guide you through the buildings for a look."
The facility changed hands on May 7 when LSCS announced that it had purchased the core of the Hewlett Packard north campus on SH 249 at Louetta Road – 45 acres for a purchase price of $42.15 million.
The purchase gave LSCS 1.2 million square feet of additional office space in eight major buildings, as well as parking garages and other support infrastructure, making it one of the largest such real estate acquisitions in higher education history.
The facility will serve multiple purposes, including a new university center for north Harris County, an instructional satellite campus, a Corporate College conference and training facility, and system administration and support space. Renovation has yet to begin but plans call for some classes to debut in the spring.
Laughter said that the college system is also looking to community members for assistance with naming this new Lone Star College facility, and will have an area set up at the open house where the public can input suggestions.
"That's another great reason to come out to our open house," Laughter said. "We are looking to our public for help with coming up with a name."
Lone Star College System consists of five colleges including LSC-CyFair, LSC-Kingwood, LSC-Montgomery, LSC-North Harris, and LSC-Tomball, six centers, LSC-University Center, Lone Star Corporate College, and LSC-Online. With more than 51,000 students in credit classes last fall, LSCS is the largest institution of higher education in the Houston area and third largest community college system in Texas. To learn more visit LoneStar.edu.
###