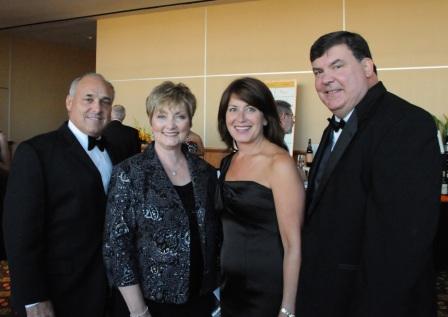 Lone Star College Foundation's StarGala 2009 event was once again a smashing success for the goal at hand – raising money for student scholarships, academic programs and faculty projects.
More than 700 guests attended this year's gala, themed "Summer in the City," held May 30, at The Woodlands Waterway Marriott. The evening of dinner and dancing, raffles, along with silent and live auctions, netted more than $265,000, which will directly benefit Lone Star College students and faculty alike.
"I received so many compliments on this year's gala," said Karen West, chairman of the Foundation's board of directors. "It was just a fantastic evening and we were very, very pleased with the results.
"Most people just don't know the number of volunteers who put in many, many of hours of hard work to make this event happen the way it does," West said. "We could not get this event done if it were not for our wonderful volunteers."
West said that she is consistently humbled and touched by the speeches given by student scholarship recipients. "That is always the highlight for me – those speeches and the impact the Foundation has on the students demonstrates what it's all about."
Karen Jordana Martinez, a student scholarship winner from LSC-Kingwood, spoke about what her scholarship and the LSC education meant to her. Former student Drew Heron, a Foundation endowment donor who had attended LSC-Kingwood, also spoke as part of the event.
"Lone Star College System was the vessel that took me on this journey of personal discovery which has had a positive impact in all other aspects of my life," Martinez said.
As part of the evening's agenda, the Foundation also paid homage to some of the northwest community's most respected and well-known leaders including Elmer Beckendorf, John Weisner and the Land Tejas Companies for their continued support and dedication to LSCS and the local community.
"This year's event was absolutely one of the nicer ones," said Carl Joiner, of Joiner Partnership, Inc., who was a top StarGala 2009 sponsor. "But they always seem to get better every year."
Joiner said that he has been involved with the LSC Foundation since "day one" and has been involved with LSCS for 25 years or more.
"Lone Star College offers students an inexpensive way to attend college and get college credits," Joiner said. "Having attended many Foundation events over the years and having heard a number of students' essays, it's pretty amazing how the Foundation has impacted the lives of students in Harris and surrounding counties."
The gala was co-chaired by Linda and Donnie Humphries and Lisa and Fred Koetting.
Underwriters and sponsors for the event included: Capital City level– Emirates Airlines, Joiner Partnership, Inc., LSCS-Tomball Math Department; Empire City level – Houston Northwest Medical Center, Tomball Regional Hospital, Valance Operating Co.; Gateway City level – Barney and Mae Bonnette Foundation, Caldwell Cos., Cypress Fairbanks Medical Center, Entergy, MATTCO Manufacturing, Methodist Willowbrook Hospital, Bob and Darcy Mingoia, North Cypress Medical Center, Perspectiva, Schulte Building Systems, L.P., The Woodlands Development Co.; Mile High City level – Elmer and Dorothy Beckendorf, Conroe Regional Medical Center/Kingwood Medical Center, Cy-Fair Federal Credit Union, PDG Architects, Project Control Houston; Windy City level – Automated Logic/United Environmental Services, Custom Food Group LP, Patricia and Sam Harless, Huntsman International LLC, Jim and Nelda Luce Blair, Morris Architects, Satterfield & Pontikes Construction, Inc./Healthy Resources Enterprise, Inc. (HRE), SHW Group LLP, John Wiesner, Inc.; and Motor City level – Aldine ISD, Allegiance Bank Texas, Broaddus & Associates, CenterPoint Energy, Dignity Kingwood Funeral Home, Dan and Eileen Dodson/Wayne and Martha Jones, EMCID, Evans Properties, Follett Higher Education Group, Gensler, HarrisonKornberg Architects, Houston Northwest Chamber of Commerce, InvesTex Credit Union, Jones Lang LaSalle, Memorial Hermann-The Woodlands, PBK, Schwartz, Page & Harding, LLP, Sellers Group LLC, Sterling Bank, Stan and Suzanne St. Pierre, Texas Process Equipment, Thompson & Horton LLP, University of Houston Cullen College of Engineering, Wells Fargo Public Finance and The Woodlands Township.
The Foundation is a 501(c)(3) non-profit organization dedicated to raising funds to support students, faculty and programs of the Lone Star College System.
Lone Star College System consists of five colleges including LSC-CyFair, LSC-Kingwood, LSC-Montgomery, LSC-North Harris, and LSC-Tomball, six centers, LSC-University Center, Lone Star Corporate College, and LSC-Online. LSCS recently acquired a 1.2 million square foot facility in northwest Harris County to serve multiple purposes, including a new university center, an instructional satellite campus, a Corporate College conference and training facility, and system administration and support space. With more than 51,000 students in credit classes last fall, LSCS is the largest institution of higher education in the Houston area and third largest community college system in Texas. To learn more visit LoneStar.edu.
###