Lone Star College-CyFair's community outreach is touching lives across the world this fall as the college's Student Ambassadors chose a semester project that would honor the brave men and women serving in the United States Armed Forces.
"The ambassadors wanted a project that would make a difference in the community, whether on campus, in Cy-Fair or beyond. That's part of what being an ambassador is all about at LSC-CyFair," said College Relations Program Coordinator Rachel Valle. "This semester project has taught our ambassadors to look beyond partisan views and just to look at the actual people."
Working in partnership with the volunteer-based organization Adopt A US Soldier (AAUSS), LSC-CyFair's 20 Student Ambassadors adopted three soldiers representing three respective platoons of 20 who are serving overseas.
"I was glad that there was something we could do to make the soldiers feel appreciated when they are over there for us," said Student Ambassador Jesus Rosales.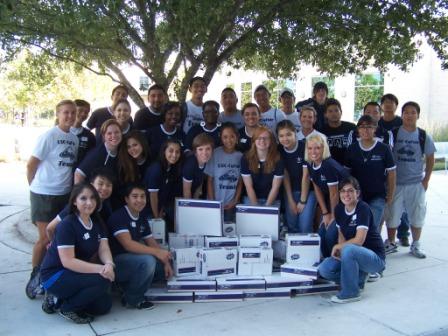 In September, the ambassadors held an Adopt-A-Soldier event commemorating 9/11. More than 250 college students, faculty, staff and visitors on campus participated writing letters to soldiers, donating care package items such as magazines, toiletries and non-perishable food items or making monetary donations for purchase of additional care package items.
As word spread about this effort, LSC-CyFair's Tennis Team got involved, too, said Valle. The tennis players collected more than $250 and purchased a Wii gaming console, extra controller, and controller extensions such as a tennis racquet and golf club.
In October, at the college's annual community Cy-Fest event (which drew more than 13,000 in attendance), AAUSS representatives welcomed notes and drawings for soldiers as well as shared information on the organization's efforts and volunteer opportunities. The children's drawings collected at Cy-Fest were shipped to soldiers in Afghanistan and hung on what they call "The Wall of Support." AAUSS Ambassador Kylie Hinger said she received an e-mail from a contact there who shared his thanks and how much "the quadzillion cards" means to them.
"It looks REALLY cool and lots of soldiers stop and smile as they look at them. Everybody who takes the time to write or send a package makes a difference…." he wrote in the e-mail.

"I would like to personally thank Lone Star College-CyFair for their growing support of our troops," said Hinger. "They have stepped forward and offered their time and resources to show their appreciation for those who have made sacrifices to fight for our country."
In November, the Student Ambassadors and Tennis Team packaged and mailed all the letters and items collected.
"The ambassadors hope all Americans will want to show support for our soldiers regardless of their political affiliations. It's not about war, but people and paying tribute to those who fought, are fighting and may have given their lives for our freedom," said Valle.
For information on the Student Ambassador program or the Tennis Team, go to LoneStar.edu. For information on AAUSS, go to www.adoptaussoldier.org.
About Adopt a US Soldier
Adopt a US Soldier now has over 340,000 registered supporters from 91 different countries. The organization is run by only 38 volunteers yet we have come so far. We encourage individuals to register to adopt a soldier if they have a little free time each week. Perhaps sit down to write a letter of encouragement and support, or put together a monthly care package of items.