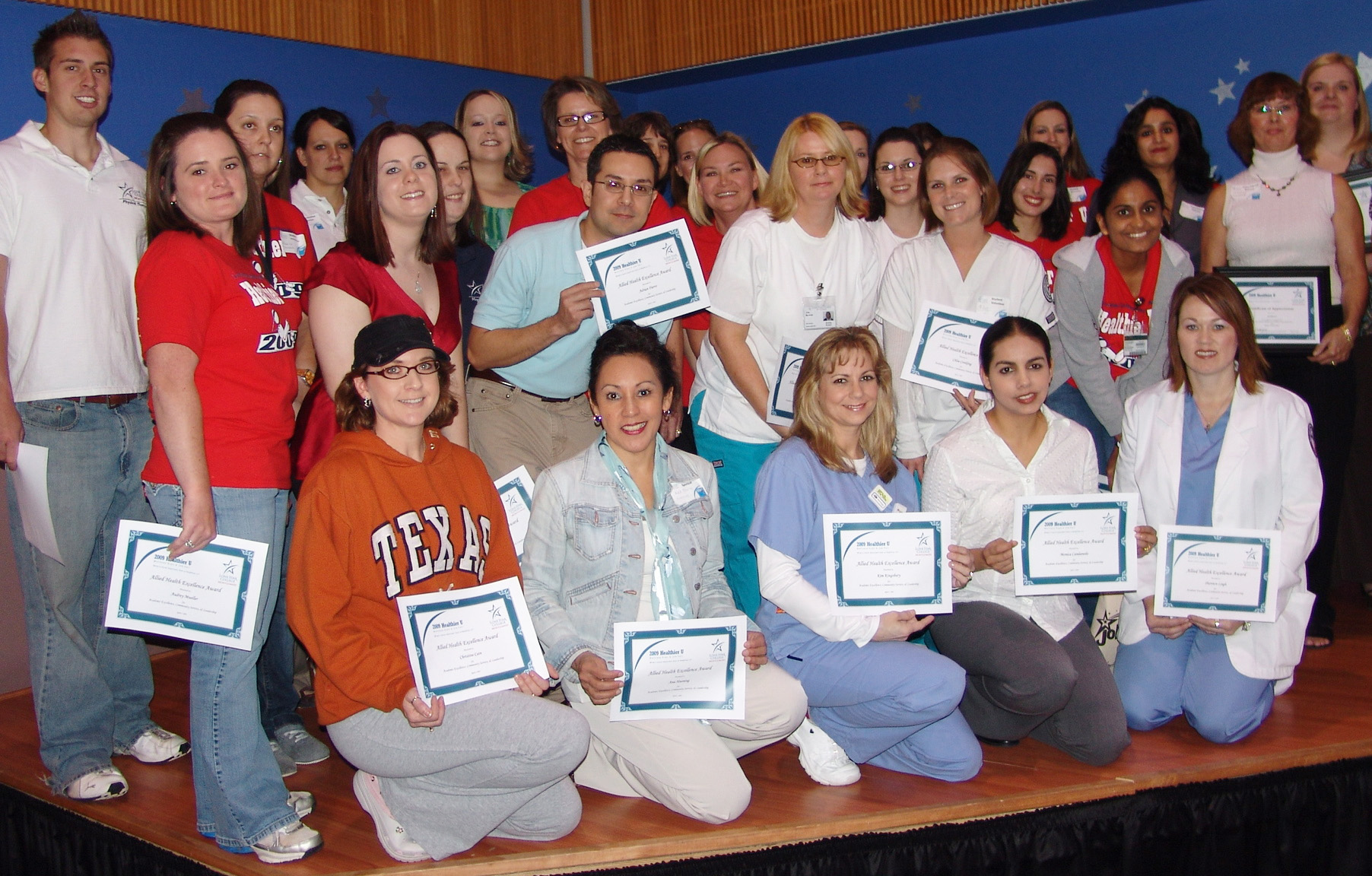 Lone Star College-Montgomery's 13th annual community-wide wellness expo and job fair, Healthier U, is seeking sponsors and booth exhibitors for the two-day event, which takes place April 7-8, 2010. Proceeds generated from Healthier U go toward scholarships that benefit students in health-related and other academic programs at LSC-Montgomery.
"Sponsoring a booth is a great opportunity for a health-related business or organization to get excellent publicity while providing financial support to a significant number of students," said Mary Hoff, division operations manager and Healthier U coordinator. "As part of the 2009 event, more than $15,000 in scholarships was awarded to more than 30 students."
The event aims to promote healthier living in the community while generating much-needed funds for scholarships. Event activities include educational and interactive booths, a heart-healthy cook-off, a multimedia sale, free preventive health screenings and lectures, a silent auction and more.
The event primarily benefits students in the nursing, radiologic technology, and physical therapist assistant programs; however, since the college has expanded it program offerings to include emergency responders, proceeds from Healthier U will also provide scholarships for students in the fire science and emergency medical technician programs.
Sue Fagnant, a first-year student in the physical therapist assistant program, was the recipient of the first Healthier U endowed scholarship, completed in 2009. The $1,000 scholarship will enable her to continue the program and ultimately, fulfill her goal to work as a physical therapist assistant here in the community.
"I'm honored and so pleased to be the recipient of this scholarship," said Fagnant. "I'm enrolled in a wonderful, yet challenging program at an excellent school, and I can guarantee that this scholarship was money well spent."
Booth sponsorships for Healthier U 2010 are still available. Sponsor levels include Bronze ($250); Silver ($500); Gold ($1,000); and Platinum ($1,500), with increasing benefits at each level.
Among the 30-plus businesses and organizations sponsoring booths at the 2009 Healthier U event were top-level sponsors Houston Community Newspapers (The Courier and The Villager), Sadler Clinic, Kaplan, Memorial Hermann The Woodlands Hospital, Sam's Club, Journey Lite of Houston, Northwoods Urology Associates, and USE Credit Union.
Bronze level sponsors were American Laser Center, Arbonne International, Associate Degree Nursing Senior Class, Bikram Yoga The Woodlands, Blue Cross Blue Shield of Texas, CMC Healthy Living Center, College Park Medicine, P.A., Exercise Defined, Inc., Health Help, Healthy Beginnings Family Chiropractic, Hospice Care of the Southwest, Hospice Compassus, The Institute for Physical and Alternative Medicine, Kelsey-Seybold Clinic, Lighthouse Hospice, LSC-Montgomery Office of Student Activities, Regent Care Center of The Woodlands, State Farm Kyle Sherbourne, Tri County Mental Health Mental Retardation Services, UTMB Correctional Managed Care, VillaSport Athletic Club and Spa, The Woodlands Institute for Health and Wellness, The Woodlands Integrative Medicine, Yieter & Somers, LLP, and YMCA, South Montgomery County.
The 2010 event kicks off with a heart-healthy cook-off, a gently used multimedia sale, and a silent auction. The multimedia sale and silent auction continue throughout the two days of Healthier U. The silent auction features items from a variety of local merchants, restaurants, and organizations.
On Thursday, April 8, the wellness expo and job fair take place, along with the silent auction and multimedia sale. The wellness expo includes informal presentations, demonstrations, and exhibits.
At noon on Thursday, an awards ceremony will be held to recognize the Healthier U scholarship recipients for 2009, as well as the Platinum and Gold-level sponsors.
Most activities take place in and around the Commons area (Building A) from 10 a.m.-2 p.m. All events are open to the community.
Businesses are also welcome to participate in the job fair portion of the event. For more information about the job fair, contact Michelle Haynes, program manager of career counseling at LSC-Montgomery, at (936) 271-6163.
For more information about sponsoring a booth or the Healthier U event, contact Steve Rosita at (936) 273-7012.
LSC-Montgomery is located at 3200 College Park Drive, one-half mile west of Interstate 45, between Conroe and The Woodlands. For more information about the college, call (936) 273-7000, or visit www.LoneStar.edu/montgomery.

Lone Star College System consists of five colleges including LSC-CyFair, LSC-Kingwood, LSC-Montgomery, LSC-North Harris, and LSC-Tomball, six centers, LSC-University Center, LSC-University Park, Lone Star Corporate College, and LSC-Online. With more than 58,000 students in credit classes this fall, LSCS is the largest institution of higher education in the Houston area and third largest community college system in Texas. To learn more visit LoneStar.edu.