The gift of giving takes shape in the form of a very special toy 18-wheeler for one little boy
Patty Banda, student support specialist, with Lone Star College Transportation Institute– housed at the Lone Star College-North Harris campus– had been lamenting over the fact that last year she missed the opportunity to adopt a child for Christmas. Banda was not about to let it happen this year.
"Christmas is a time for giving. No one should have to go without, especially children. I have the pleasure to say that I am blessed and all I want is to make a child very happy on Christmas morning," says Banda.
In typical fashion of the Christmas season—opportunity met need. Each year LSC-North Harris supports area schools by adopting students during the holidays. Banda and her colleagues heard about a little boy named Joshua who wished to have a truck for Christmas. An "aha" moment was born—eighteen wheels of steel! Not the full-size semi tractor-trailer truck that they were used to training students in, but a model replica of the institute's 18-wheeler.
The staff and faculty of LSC-North Harris Transportation Institute decided to forego exchanging gifts among themselves, pool their money and grant Joshua his Christmas wish. The group browsed the catalog and found what they thought would be a nice little truck. "Once we picked out a truck, ordered it, and had it delivered we couldn't believe how big it was," Banda said. Another "aha" moment was born.
The truck was transformed into the first miniature Lone Star College System Transportation Institute remote control 18-wheeler. Before long they had enlisted other departments and the project began to grow.
"We wanted to add a personal touch to it, so we contacted the college's creative services department to design a miniature LSCS institute logo to go on the toy 18-wheeler. Apolinar Chuca, creative services manager, was thrilled with the idea and transformed the toy truck with appliqués.
Joshua probably won't be too surprised that his Christmas wish was granted, but he may be surprised by the enormity of the hearts and the attention to detail of those who gave it.
The LSCS Transportation Institute consists of people and resources ready to help you meet transportation education and certification objectives of those seeking a new career or new skills. Classes are ongoing year round. The institute features training programs for professional truck driving, teen driver education, diesel mechanics, and safe motorcycling. For more information, call 281.765.7750.
Lone Star College-North Harris is located at 2700 W.W. Thorne Drive, one-half mile south of FM 1960 E, between Aldine-Westfield and Hardy Roads. For more information about the college, call 281.618.5400 or visit: lonestar.edu/northharris.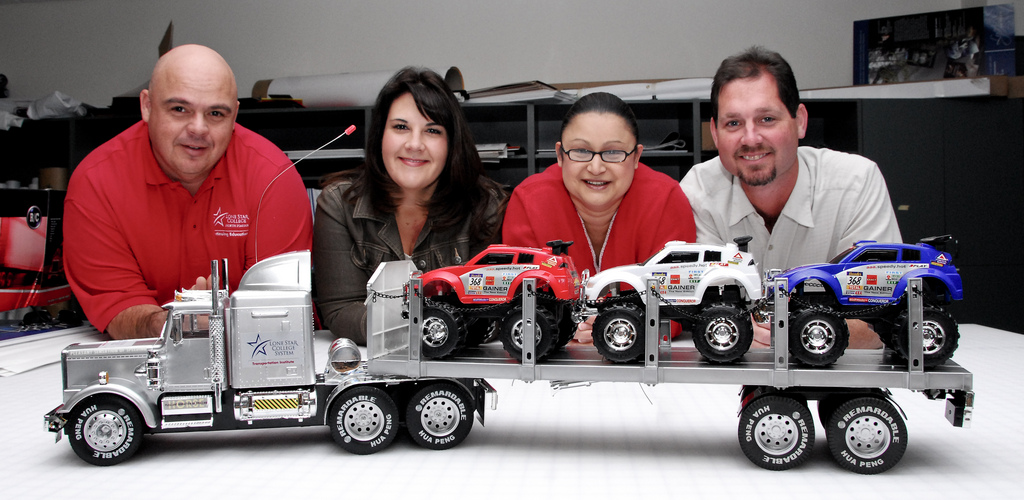 LSCS Transportation Institute employees (left to right) Martin Molina, trainer; Lori Qualls, manager; Patty Banda, student support specialist; and John Hughes, trainer.
Lone Star College System consists of five colleges including LSC-CyFair, LSC-Kingwood, LSC-Montgomery, LSC-North Harris, and LSC-Tomball, six centers, LSC-University Center, LSC-University Park, Lone Star Corporate College, and LSC-Online. With more than 59,000 students in credit classes this fall, LSCS is the largest institution of higher education in the Houston area and third largest community college system in Texas. To learn more visit LoneStar.edu.

Media Contact:
C.C. Sutphen
281.618.5425, desk
281.639.6381, cell