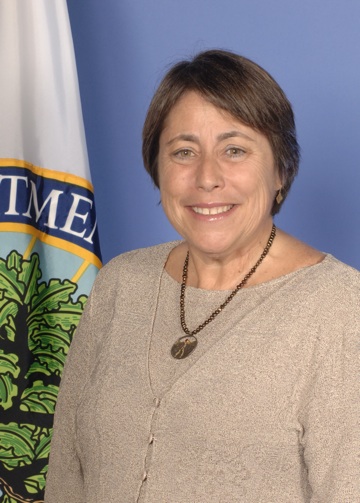 Martha Kanter, the undersecretary of the U.S. Department of Education under President Barack Obama, will be the keynote speaker for the Community Colleges for International Development Inc.'s 34th annual conference that will be held at The Woodlands Waterway Marriott on Feb. 20-23.
Kanter accepted the special invitation of Dr. Richard Carpenter, Lone Star College System chancellor, to travel to the Lone Star State and appear for this speaking engagement. In addition, Carpenter will be hosting Kanter as part of the visit.
Kanter, who was selected by President Obama in April, was also a community college chancellor prior to her appointment. She is the first community college leader to serve in the undersecretary position.
"We are very pleased to be able to host Undersecretary Kanter for this event," said Carpenter.
CCID is an international organization with a mission to "provide opportunities for building global relationships that strengthen educational programs, and promote economic development." The group's activities and programs are focused on global education issues as they relate primarily to two-year colleges.
The conference, to be held Feb. 20-23 at the Woodlands Waterway Marriot Hotel and Convention Center, will include representatives from member colleges throughout the nation and internationally. LSCS is the official host of the conference.
The theme for the 34th annual event is "Community Colleges: Architects of Global Prosperity." Kanter will speak at 7 p.m. on Sunday, Feb. 21, as the keynote speaker for the conference's opening banquet.
Other speakers include Michael Yates, acting assistant administrator, U.S. Agency for International Development (USAID), and Ann Olsen Schodde, president and CEO, U.S. Center for Citizen Diplomacy.
As undersecretary, Kanter reports to Secretary of Education Arne Duncan and oversees policies, programs, and activities related to postsecondary education, vocational and adult education, and federal student aid.
From 2003 to 2009, Kanter served as chancellor of the Foothill-De Anza Community College District, one of the largest community college districts in the nation, following many years in the higher education field.
Kanter has been recognized for her work numerous times in California, including being named Woman of the Year by the 24th Assembly District, Woman of Achievement by San Jose Mercury News and the Women's Fund, and Woman of the Year for Santa Clara County by the American Association of University Women. In 2003, she received the Excellence in Education award from the National Organization for Women's California Chapter. In 2006, she was honored for diversity and community leadership by the Santa Clara County Commission on the Status of Women, and in 2007, the American Leadership Forum-Silicon Valley honored her with the John W. Gardner Leadership Award. Last year, Kanter received the Citizen of the Year award from the Cupertino Chamber of Commerce.
Kanter holds a doctorate in organization and leadership from the University of San Francisco. She received her master's degree in education with a concentration in clinical psychology and public practice from Harvard University, and a bachelor's degree in sociology from Brandeis University.
Lone Star College System consists of five colleges including LSC-CyFair, LSC-Kingwood, LSC-Montgomery, LSC-North Harris, and LSC-Tomball, six centers, LSC-University Park, LSC-University Center @ Montgomery, LSC-University Center @ University Park, Lone Star Corporate College, and LSC-Online. With more than 59,000 students in credit classes last fall, LSCS is the second largest and the fastest-growing community college system in Texas and the largest institution of higher education in the Houston area. To learn more visit LoneStar.edu.
###