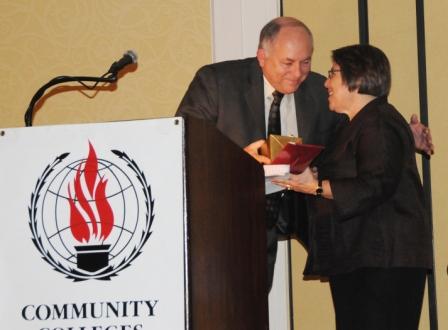 THE WOODLANDS (March 2, 2010) – Dr. Martha Kanter, undersecretary of the U.S. Department of Education under President Barack Obama, outlined key education issues as part of her keynote address at a conference held Feb. 20 in The Woodlands.
Kanter, who was selected by President Obama in April, spoke at the Community Colleges for International Development Inc.'s 34th annual conference that was held at The Woodlands Waterway Marriott.
Kanter was hosted at the event by Dr. Richard Carpenter, Lone Star College System chancellor, and the conference was also sponsored by LSCS.
"As educators, we are not naive to the facts of what is happening in America. Today roughly 40 percent of Americans hold college degrees," Kanter said. "That was good enough to lead the world a generation ago, but it's not now. Now, the U.S. is ranked 10th in the world.
"My job, and the goal President Obama has challenged us with, is to become first in the world in college graduates by the year 2020," she said. This will be accomplished, by among other things, the "historic increases" in the current administration's budget for education.
"President Obama is proposing the biggest investment in higher education since the GI Bill," Kanter said.
According to the president, Kanter said, "education and innovation will be the currency of the 21st century."
"I can tell you as your undersecretary, the Department of Education recognizes that international education cannot be just an add-on at the K-12 or higher education level," she said.
"It's personal with our administration. It's personal with President Obama. It's personal with Dr. Jill Biden," Kanter said.
Kanter also noted that Dr. Biden, wife of Vice President Joe Biden, is keen on the education that U.S. students are able to receive in community colleges.
"Dr. Biden is committed to community colleges – the affordability and accessibility. She's a faculty member and she really does understand who our students are," Kanter said. "She has said that community colleges are one of the nation's best-kept secrets. We're not a secret to ourselves, though."
Kanter was a community college chancellor prior to her appointment, and is the first community college leader to serve in the undersecretary position.
"Community colleges play such a vital role in the nation's prosperity," she said.
The CCID banquet event included representatives from all over the United States and internationally. CCID is an international organization with a mission to "provide opportunities for building global relationships that strengthen educational programs, and promote economic development." The group's activities and programs are focused on global education issues as they relate primarily to two-year colleges.
The theme of the CCID event was "Community Colleges: Architects of Global Prosperity."
As undersecretary, Kanter reports to Secretary of Education Arne Duncan and oversees policies, programs, and activities related to postsecondary education, vocational and adult education, and federal student aid.
Lone Star College System consists of five colleges including LSC-CyFair, LSC-Kingwood, LSC-Montgomery, LSC-North Harris, and LSC-Tomball, six centers, LSC-University Park, LSC-University Center @ Montgomery, LSC-University Center @ University Park, Lone Star Corporate College, and LSC-Online. With more than 62,000 students in credit classes this spring, LSCS is the second largest and the fastest-growing community college system in Texas and the largest institution of higher education in the Houston area. To learn more visit LoneStar.edu.
###