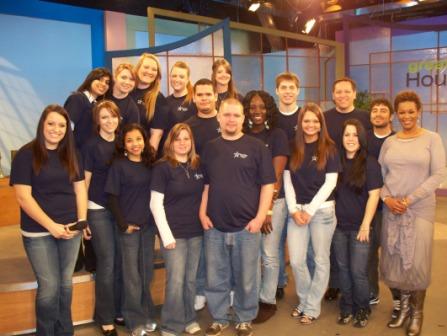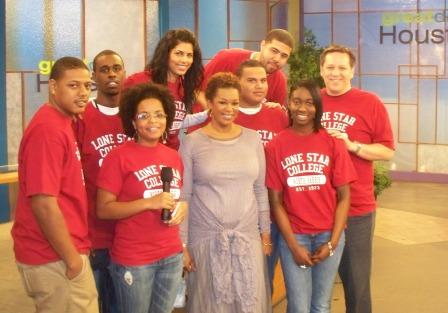 (March 26, 2010) – When Bob Lynch talks about his students and the hands-on projects that are part of the class experience he offers, his voice surges with excitement.
Lynch is a Lone Star College System adjunct professor who teaches mass communications at LSC-CyFair, LSC-North Harris and online. And it doesn't take long for one to understand that Lynch is enthusiastic about helping his students learn.
"Learning from a book doesn't always give the students the true feel of what it would take in the real world," Lynch said. Context is important, he said, so that's the reason that he schedules hands-on activities each semester, in the community, as part of his mass communications course.
Lynch recently led two field trips this semester for groups of his students. First, the group traveled to downtown Houston to tour the Museum of Printing History as part of several related chapters in the mass communications book that the students are studying, including history of mass communications, along with books, newspapers, printed advertising and printed public relations. The Museum of Printing History houses, for example, the only known working replica – that the public is allowed to operate – of the Gutenberg press, the first operational press from the 1400s.
The group also took a trip to the downtown television studios of KHOU-TV Channel 11 and observed the live broadcast of "Great Day Houston." As part of this field trip, students visited with the show's host, Deborah Duncan, and Channel 11 taped two public service announcements of the students – all in matching Lone Star College t-shirts – promoting various LSCS events, like the Women's Month at LSC-CyFair.
These field trips are just a sampling of the types of hands-on knowledge that Lynch likes to provide his students.
"We don't live in a vacuum. We have tremendous community resources," he said.
The field trips into the community are "very hands-on experiences," Lynch said. "I like to call it authentic learning. The students see things like they would in the business."
Prior to the field trip to the television studios this year, Lynch and his class had a dilemma – who would be the spokespersons for the classes if the television station allowed each group to tape a public service announcement? Since so many of the students volunteered to do the talking, Lynch and his LSC-CyFair class put together an audition contest similar to "American Idol" to determine who would represent the class. They called it "CyFair Idol."
Collaborating with another professor, David Potts, members of the video production class had cameras rolling as each contestant had to audition in front of the judges. "The judges got it down to the top two, and then the class got to vote to select the winner," Lynch said. "We even had golden tickets to hand out. Instead of saying 'You're going to Hollywood,' though, these tickets said – You're going to Great Day Houston!'"
Last year, the members of Lynch's classes produced three television shows as part of the course, including a "Jeo-Parody!" show that mimicked the television quiz show "Jeopardy." Questions for "Jeo-Parody!" were composed from material that was in the textbook – helping the students learn the materials in an interactive, fun way.
"No one is interested in only hearing a professor stand up at the front of the room and lecturing," Lynch said.
The students were recently treated to a visit by a regional musician Joshua Bradford, from Fort Worth, also as part of Lynch's class material.
Many of the students have also made professional contacts as part of these outings that they are able to carry with them later as they do get jobs in the industry. "They get to be in front of professionals that they can network with," Lynch said.
And, he said, when class members from his classes at different colleges are all put together, "students get to interact with each other as well."
"It's a lot of work," Lynch said, but these are fun events. "It's cooperative learning, hands-on learning."
Many of the mass communications students are left with experiences from Lynch that they can't get in other classes or environments. And many students have told the professor, he said, that these excursions are etched in their minds – trips they will never forget.
With more than 62,000 students in credit classes in spring 2010, Lone Star College System is the second largest and the fastest-growing community college system in Texas and the largest institution of higher education in the Houston area. LSCS consists of five colleges including LSC-CyFair, LSC-Kingwood, LSC-Montgomery, LSC-North Harris, and LSC-Tomball, six centers, LSC-University Park, LSC-University Center at Montgomery, LSC-University Center at University Park, Lone Star Corporate College, and LSC-Online. To learn more visit LoneStar.edu.
###