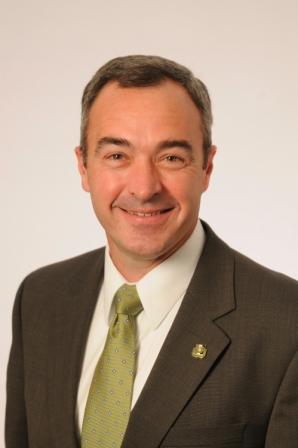 (April 9, 2010) – U.S. Army Col. J.M. "Matt" Venhaus literally will be "coming home" when he travels to Tomball on April 16 for the Lone Star College System and the Gulf Coast International Education Consortium's Seventh Annual International Education Conference at LSC-Tomball.
The conference, entitled "International Conflict Resolution," will be held Friday, April 16, from 8 a.m. to 4 p.m. Venhaus, who is a Jennings Randolph Army Fellow at the United States Institute of Peace, is one of the keynote speakers for the event, along with David Smith, USIP senior program manager.
"Growing up, my family and I lived in and around the Houston area," Venhaus said. "Shortly after I went away to join the army and go to West Point in 1982, my mother moved to Decker's Prairie."
"I have had my personal possessions and a house in dozens of cities, but when I talk about 'home' it is still a place in Texas," Venhaus said.

Venhaus' mother, Judith Jordan, is familiar to members of St. Timothy's Anglican Church southeast of Tomball where she attends as well as Parkway Chevrolet, where she works.
She will be in the audience at the conference, Venhaus said, with several of her friends joining her.
"She couldn't imagine me being that close and not getting the chance to talk," Venhaus said.
The annual conference is open to the public. It will focus on international studies, global environmental concerns, international education, study abroad programs and international students.
Venhaus, who is the luncheon keynote speaker at the conference, will discuss "Al-Qaeda: Young Men Joining Extremist Groups and How to Prevent It." This presentation, he said, is not just limited to college personnel. "I think it applies somewhat across the board because it has a lot to do with adolescent development and how young men come to be whatever they decide to come to be.
"My theory is that Al-Qaeda appeals to young, primarily Muslim, men for reasons that are more about adolescent development than some of the other reasons that have been cited around as proximate causes," Venhaus said. "It's not so much about their religion as it is about their desire for identity and self definition.
"We all live around young men who are seeking to define themselves, so it's important for all of us to understand why this is becoming a phenomenon and what we can do to try to help turn it the other direction," he said.
Venhaus, who was born in Lubbock, is a career Army officer, and a 1987 graduate of the U.S. Military Academy at West Point. He has served in a variety of command and staff positions and has spent 23 years in the field of foreign media influence operations.
The Jennings Randolph Army Fellow program, where he is currently serving, is a competitive program that provides the participants the opportunities to spend time in residence at USIP, reflecting and writing about pressing international peace and security concerns.
Venhaus said that the Army allows its officers who have been selected for the Army's War College to apply for civilian fellowships – like this one at USIP. "There are several of us out serving in various different institutes, organizations, think tanks, universities, in lieu of the Army War College. This is how I'm spending my War College year," he said.
He said that as part of the presentation on April 16 at LSC-Tomball he will debuting a special report he has compiled on Al-Qaeda recruitment and young men in extremist violence, a report that will be available to those in attendance.
"Feel free to offer that to anyone that wants a copy. If they will just get in line behind my mother, I'm sure they can have one," he said.
For registration and other information about the conference, go to LoneStar.edu/IEC2010
The Gulf Coast International Education Consortium consists of Alvin Community College, Brazosport Community College, Galveston College, Houston Community College, Lee College, Lone Star College System, College of the Mainland, San Jacinto College and Wharton County Junior College.
The United States Institute of Peace is a national institution established and funded by the U.S. Congress. Its mission is to help prevent and resolve international conflicts; help promote post-conflict stability and development; and to help increase conflict management capacity, tools and intellectual capital worldwide. The institute does this by empowering others with knowledge, skills and resources, and by directly engaging in peace-building efforts around the globe.
With more than 62,000 students in credit classes in spring 2010, Lone Star College System is the second largest and the fastest-growing community college system in Texas and the largest institution of higher education in the Houston area. LSCS consists of five colleges including LSC-CyFair, LSC-Kingwood, LSC-Montgomery, LSC-North Harris, and LSC-Tomball, six centers, LSC-University Park, LSC-University Center at Montgomery, LSC-University Center at University Park, Lone Star Corporate College, and LSC-Online. To learn more visit LoneStar.edu.
###