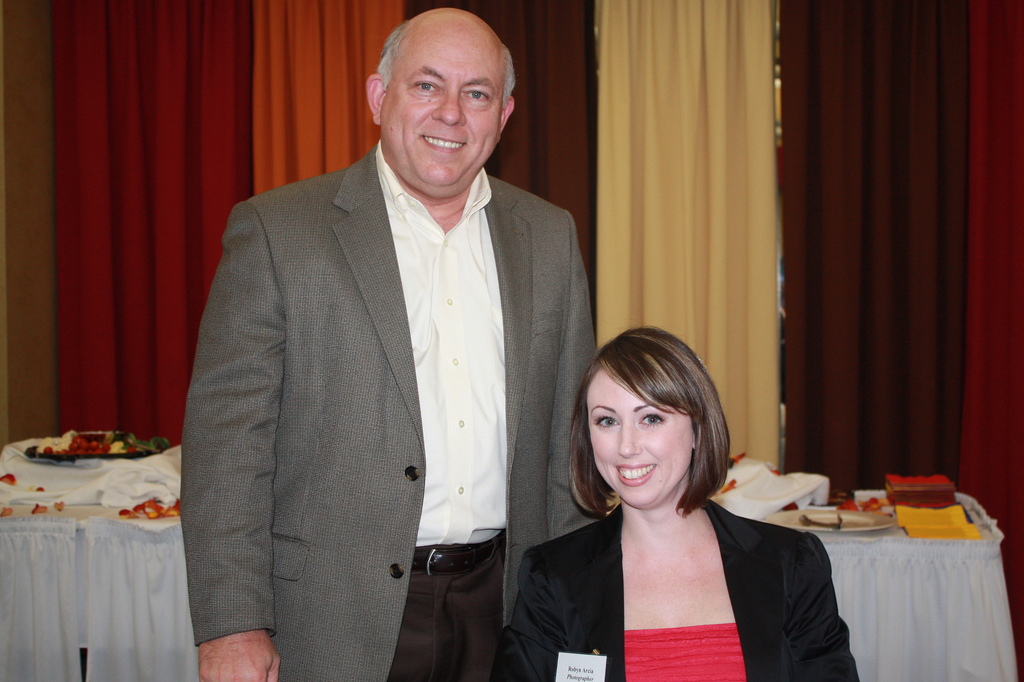 Robyn with Chancellor Richard Carpenter at the Inkling release party in April.
Lone Star College –Tomball student Robyn Arcia is like many of her fellow students, rushing to classes, trying to balance life and work with school, and working hard to maintain her grade point average.
However, this 29 year-old married mother of a toddler, who resides in the Magnolia-Plantersville area, has taken a somewhat unusual path on her goal to become a teacher.
After overcoming a difficult childhood, and inspired by a much loved high school art teacher and mentor, Shally Brady, Arcia earned her associate's degree in graphic design with honors from the Art Institute of Houston and began a successful and lucrative graphic design career in the advertising industry.
During her graphic design career she would often assist other employees and was frequently told she could be a "wonderful teacher."
When keeping her job meant transferring out of Texas, she remembered those comments and compliments, and opted to change her life. She chose to remain in Texas, spend more time with her infant son than a 50-60 hour week job would allow and to go after a teaching career.
She enrolled at LSC-Tomball in the Spring of 2008 with the ultimate goal of earning her undergraduate degree and a variety of elementary level teaching certifications, including an art certification, to prepare her to work with at-risk children. Arcia hopes that, as a teacher, she can make a significant difference in the lives of these at-risk children.
Arcia knows from experience the difference that education can make. She credits caring teachers who mentored her with making a difference in her own life. Now, she wants to help a new generation of children who may be struggling with their life situations.
"To me, that's more important than making a big salary," said Arcia.
Although she is a busy young mother who takes an average of four classes each semester and works part-time at LSC-Tomball as a scribe (note taker for disabled students). Inspired by her mentor LSC-Tomball English Instructor, Dr. Rebecca Tate, Arcia makes time for community service and to involve herself in extra-curricular activities at the college.
As an elementary education major she performed her required service hours at an area elementary school where she saw some of the children struggling to learn.
"The disadvantaged students were the ones who were having the difficulties learning," she said. "I felt a really strong connection to these children. The work there was very, very satisfying. Maybe the time I spent with these students and the encouragement I gave them will be something they will take with them."
Arcia is also involved with the college's creative arts and writing magazine, the Inkling, where she served as the senior editor for the 2009 and 2010 publications.
She credits Dr. Tate for encouraging her interest in the Inkling as well as being an example of the type of teacher and mentor that she wants to be. "Dr. Tate's continuous positive support and encouragement has helped build the foundation from which I plan to meet my goals. My goal is to be an exceptional mentor to my future students as a teacher and contribute to building the foundation for the journey of others," says Arcia.
"Working on the Inkling has been incredibly fun," said Arcia. "I enjoy the challenge it offers and how it fosters a cooperative learning environment for the student staff members. Being a little older than most of the other students, I learn from the younger students and they learn from me. And, it keeps me in the production and graphic design element. This year is the first year that I've stepped into the creative writing realm and written a poem that has been published in the 2010 magazine."
She enjoys working with the group and said she's learned even more about writing and grammar, all of which will be helpful as a teacher.
Working with the Inkling also led her to another service project. Inkling staff members, along with co-advisor and mentor, Amy Hirsch, headed a project to produce a creative arts magazine for residents of Boys and Girls Country. The summer project even included writers workshops, provided by the Inkling volunteers.
"I had two resident interns from Boys and Girls Country who came up to the college to work with me on the magazine," she said. "They were extremely motivated individuals, and doing very well in their educational goals despite the fact their families could not take care of them. We were teaching them the entire process of magazine production. This just really fueled the fire in me."
Arcia knows first-hand the difficulties faced by at-risk youth like these. Her own childhood by all accounts would have qualified her as such. She grew up in what at that time was a dysfunctional family with alcoholism, domestic violence, and even homelessness all playing a role in her family life. She left her family at the age of 15, and continued her high school education while staying with the family of her high school sweetheart, Nick. She and Nick would eventually marry and have been together 14 years.
Although her childhood years were often difficult, as an adult, she has mended many of those old broken fences and holds no grudges about the past. Today, she enjoys improved relationships with her parents and two sisters and continues to enjoy the love and support of her husband's family.
"What's past is past," said Arcia simply. "I embrace the good qualities."
While there are those days where it seems as though there are not enough hours to complete all the goals she sets for herself, including maintaining a 4.0 grade average, Arcia says she is determined to complete her education and earn her teaching degree.
Arcia has managed to garner a number of awards while pursing her goals. Arcia has earned a spot on the LSC-Tomball President's List for the Spring 2008, Fall 2008, and Spring 2009 semesters. She also received the 2009 Student Excellence Leadership Award, the 2009 Student Academic Excellence Award in English, selection for the 2009 Who's Who Among Students in American Colleges and Universities, and membership in the community college honor society of Phi Theta Kappa. Most recently, Arcia received the 2010 LSC-Tomball Student Activities Club Awards Leadership Award and the 2010 Student Excellence Leadership Award.
Her determination and desire are not just for herself, she said, but for her family as well. She will be the first in her family to complete a university degree. Arcia wants to set an example to demonstrate the importance of education and learning for her son, her siblings, and other family members. Education has made a difference, and is still making a difference in her life and she wants to be the example that her family and others can look to for encouragement.
"I want to be the best I can be," she said.