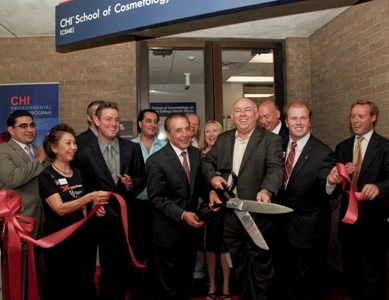 In advance of the Aug. 30 start of the fall semester, Lone Star College-North Harris and Farouk Systems held a ribbon cutting and grand opening ceremony for the new CHI™ School of Cosmetology at Lone Star College-North Harris. The newly formed school is a first-of-its-kind partnership of a community college cosmetology program and an industry leader, and expected to be a blueprint for Farouk Systems and other community colleges around the country.
The grand opening featured Dr. Richard Carpenter, chancellor of the Lone Star College System, Dr. Steve Head, president of LSC-North Harris, and Farouk Shami, founder and chairman of Farouk Systems.
"The cosmetology program is consistently one of the most popular offerings at Lone Star College-North Harris. Incorporating the innovation and success of Farouk Systems gives our students yet another advantage after graduation. This is also a wonderful example of the opportunities that exist for community colleges and local businesses to work together to fulfill a need." said Dr. Head.
Farouk Systems' CHI™ products and manufacturing plant is located very near the LSC-North Harris campus and the company sees education as a cornerstone of its mission. This resulted in a natural fit with the college's commitment to student success and strengthening the relationships that connect programs to workforce needs. An agreement to create the CHI™ School of Cosmetology at Lone Star College-North Harris was signed in April.
Since that time, CHI™ has been working closely with LSC-North Harris administrators and cosmetology professors to design and implement the new CHI™ products and advanced techniques, supplementing the college's already robust program of study.
"Joining forces with a company that shares our commitment to the economic development of this community, which is clearly the case with Farouk Systems, makes perfect sense for the Lone Star College System," added Dr. Richard Carpenter, LSCS chancellor. "Hopefully, this is the beginning of a relationship that will create new opportunities for our students well into the future."
In addition to professional development at Farouk System's facilities for instructors, the school's faculty and students will benefit from access to safer and more advanced CHI™ products; career opportunities from Farouk Systems for graduates, including the chance to become educators for Farouk Systems and travel within salon networks teaching other stylists what they have learned; field trips to Farouk System's facilities, hair shows and educational seminars; and additional instructional support from Farouk Systems' educators.
"We are enthused about partnering up with Lone Star College System that has an enrollment of more than 62,000 students. Farouk Systems' mission statement is education, environment and ethics, so we are always trying to find ways to expand our education, and I think this is the perfect way. We look forward to this partnership and look forward to working with Lone Star College-North Harris," said Shami.
One of the college's original offerings and entering its 37th year of existence, the cosmetology program offers associate degrees and certificate programs in cosmetology and related specialties, and always has a waiting list.
Approximately 45 students graduate from the program each year and there are plans to double the size of the program in the next two years. Graduates from the school are prepared to enter a rapidly growing field that is expected to employ nearly one million people in the U.S. by 2018.
LSC-North Harris Cosmetology Professor, Haddad Huong indicated that the LSC-North Harris students are thrilled about the new partnership and the advantages it provides, both now and after graduation.
"Our program always runs at capacity. Every semester, we have a waiting list of students wanting to enroll. With the extensive professional resources this new joint venture will bring our students, I envision an even higher demand for our classes," says Huong. "Beyond the new techniques and training, I am looking forward to having industry experts as guest speakers in our classrooms."
Prior to a traditional ribbon-cutting held at the front doors of the salon, the hair-cutting skills of both Shami and Dr. Carpenter were on display at the grand opening event as each of them cut a ribbon-tied ponytail from a Locks of Love donor.
The donors were both part of the Lone Star College System. Alina Longoria is a 2001 LSCS graduate and current employee at LSC-Kingwood. Emily Patella is a current LSC-North Harris student and assistant in the Career Technology Division at the college. Following the initial cut, their new look was completed courtesy of a CHI™ salon artist in the CHI™ School of Cosmetology at Lone Star College-North Harris salon.
For more information about the new CHI™ School of Cosmetology at Lone Star College-North Harris visit LoneStar.edu/CHIschool.
About Farouk Systems, Inc.
Farouk Systems, Inc. is a Houston based company that manufactures high quality professional hair care products by CHI™ and BioSilk®. Owned and operated by a team of hairdressers, the world-renowned company includes over 2,000 educators and sales its products in over 100 countries. In 1986, the inception of the company was due to a major breakthrough and it eventually created a revolution in the beauty industry. Farouk Systems went from inventing ammonia-free color, incorporating silk into hair care products, pioneering CHI™ thermal tool technology and hiring a former NASA Senior Scientist. For more information, log onto http://www.farouk.com.
About Lone Star College System
With more than 62,000 students in credit classes in spring 2010, Lone Star College System is the second largest and the fastest-growing community college system in Texas and the largest institution of higher education in the Houston area. LSCS consists of five colleges including LSC-CyFair, LSC-Kingwood, LSC-Montgomery, LSC-North Harris, and LSC-Tomball, six centers, LSC-University Park, LSC-University Center at Montgomery, LSC-University Center at University Park, Lone Star Corporate College, and LSC-Online. To learn more visit LoneStar.edu.
###