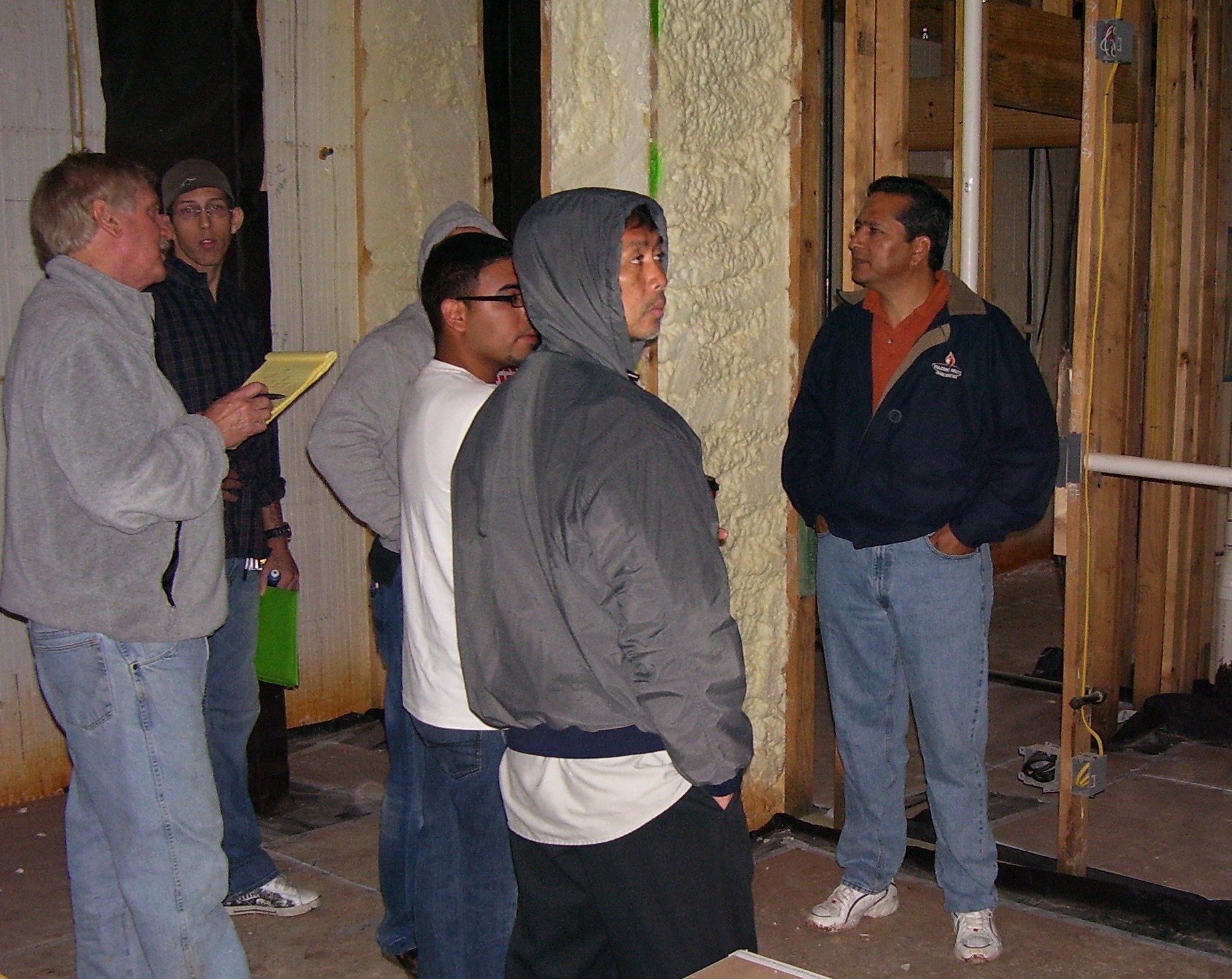 As part of the Solar Photovoltaic System Electrician program at Lone Star College-Tomball, students teamed with a local homebuilder to provide solar panel consultation to a resident hoping to build "green".

Members of Professor Antonius Bom's Solar Photovoltaic Systems class worked with local builder, Sergio Grado, owner of GradCo Structures and Homes in The Woodlands, Texas to provide solar panel analysis and a design for a custom solar panel system to be included in the homeowner's construction plans.

"My role was to come in to this program and introduce the students to the field from someone who is actually doing solar panel work," said Grado. "This partnership allowed us to give these students real-world experience."

The students, grouped into three teams, met the homeowner, Gary Hilberg, and assessed his home. Based on their analysis, the students designed plans to provide solar panels to make Hilberg's home more "green". The findings delivered to Hilberg were also the final grade for the students' class project.

Hilberg said he plans to choose the best design and have GradCo Structures and Homes install it into his home. Hilberg also indicated that he is seeking Platinum Green Building certification for his home.

"The students were able to get real-world experience in a growing industry," said Bom. "As energy costs continue to go up and solar technology becomes increasingly efficient and affordable, there are demands for professionals trained in design, installation and maintenance of solar PV systems."

At LSC-Tomball, a Solar Photovoltaic System Electrician marketable skill award program is offered in addition to specialized electrician courses – complete with industry analysis of making sure the classes meet industry needs and best prepares students to pass the Texas State Licensing exam for electricians.

Students must take four additional classes to specialize and obtain the Solar Photovoltaic System Electrician marketable skill award. After completion, students are able to analyze, design and implement solar panels into commercial and residential property.

After this last project, several students went on to form their own company, including Chris Busch who formed The Photo Volton Group with his fellow classmate Larry Glover.

"The class empowered us with the industry and technical skills to show others the road to becoming less dependent on fossil fuels," said Busch.

LSC-Tomball and GradCo Structures and Homes have partnered again this semester to provide a commercial analysis, design and implementation of solar panels for one of GradCo's commercial customers.

"We are scheduled to meet with a restaurant with apartments above that is looking to utilize solar panels to bring down their electricity costs," said Grado.
Bom said, "The students will be able to see firsthand how solar panels make a difference to our community."

With more than 69,000 students in credit classes for fall 2010, and a total enrollment of more than 85,000, Lone Star College System is the largest institution of higher education in the Houston area, and the fastest-growing community college system in Texas. Dr. Richard Carpenter is the chancellor of LSCS, which consists of five colleges including LSC-CyFair, LSC-Kingwood, LSC-Montgomery, LSC-North Harris, and LSC-Tomball, six centers, LSC-University Park, LSC-University Center at Montgomery, LSC-University Center at University Park, Lone Star Corporate College, and LSC-Online. To learn more visit LoneStar.edu.