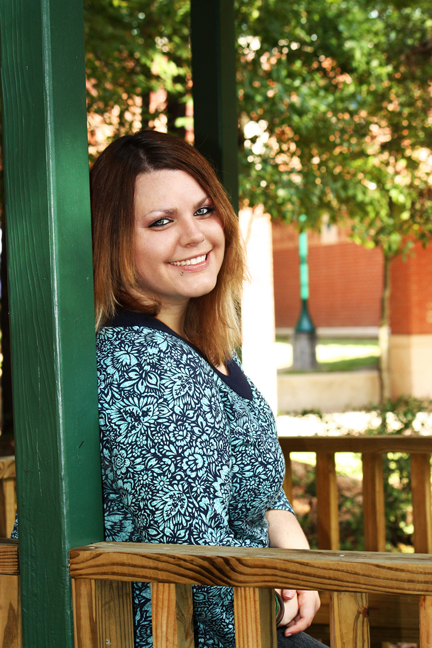 Moving forward from spending her vital teenage years under foster care wasn't something that came easily for Crystal Lovelady, a recent graduate of Lone Star College-Montgomery. But after shrugging off the past, reclaiming her future, and making the most of her two years at LSC-Montgomery, Lovelady is now on her way to a lifetime of success.
"I've had numerous setbacks both in my personal and educational life, but I've resolved to live my life as a testament to perseverance," said Lovelady. "It really is never too late to start over and move forward."
After graduating from LSC-Montgomery this May with her associate's degree, Lovelady is 'moving forward' this fall at Columbia University with the assistance of a full academic scholarship. Lovelady is pursuing her bachelor's degree in Middle Eastern studies.
"At LSC-Montgomery, I had professors who encouraged me, guided me, and really asked 'what's the worst that can happen in applying?'" said Lovelady. "I thought I'd get an apologetic 'no' letter, but I ended up receiving a personal phone call with my acceptance offer, which included the scholarship."
Nominated to the Program for Academic Leadership and Service (PALS), a group deemed worthy for only five new Columbia students this academic year, Lovelady received a tuition scholarship funded by the Juan Jacobo de Lara and Jonne Low de Lara Foundation.
"A degree from Columbia is very costly, and without the scholarship, I wouldn't have been able to attend," said Lovelady. "The only family member I am close to is my grandmother, and while she wants me to succeed, she couldn't afford to help with tuition."
In addition to academics, Lovelady will complete 30 hours of leadership and service per year for the PALS program, mentoring with Columbia Community Outreach and No Limits, a conference for high school students focused on overcoming hardship to receive a quality education.
While initially awe-struck by the beauty of the campus, Lovelady is now settled in to her new life in New York City. She works hard every single day, sometimes spending up to six hours each evening on homework.
"At LSC-Montgomery, I learned about dedication, and I knew from the start of the semester that I would have no time to watch television, go out into the city, or see my friends," said Lovelady. "It's not easy to do well at Columbia, but I have goals to reach. I can experience New York City later—when I don't have midterms approaching."
Aiming High in Higher Education

Lovelady learned the importance of education while living in the foster care system in Alabama. Due to frequent relocation, she attended five different high schools in just two years.
"My parents were just not financially and personally responsible enough to care for me," said Lovelady. "When I was 17, my grandmother received custody of me. Being in a more stable environment with her in Georgia, helped me complete my GED, find a full-time job, and start taking college courses at a local community college."
In 2006, after prompting from a family member, Lovelady moved to Texas with the sole goal of attending LSC-Montgomery. Her aunt, Nina Bergeron, a former LSC-Montgomery student, felt the campus would offer Lovelady a better college experience.
"Going to LSC-Montgomery was the best decision I've ever made," said Lovelady. "In addition to the educational guidance I received, I met so many incredible Texans! I truly learned about kindness and giving while at the campus."
From day one, Lovelady set high educational goals and became very involved on campus.
"Without much of a secondary education, I knew that if I was ever going to be successful in higher education, I would need to be involved and take leadership roles at LSC-Montgomery," said Lovelady. "So I did."
While at LSC-Montgomery, Lovelady served as an officer for Beta Delta Iota, the college's chapter of Phi Theta Kappa International Honor Society. She received three awards during her service including induction into the Hallmark of Honor in Texas. She also served as president of the Environmentally Conscious Organization of Students and was recognized as an Outstanding Student Leader.
Outside of club activities, she participated in the National Model United Nations conference, where her group was awarded the second highest honor of Distinguished Delegation.
"I did struggle with some classes, especially math, since my high school experience didn't prepare me well for college math, but I had incredible professors help me," said Lovelady. "I also received a billion opportunities to get involved on campus, so the extra time in remedial math courses was still incredibly rewarding."
Setting Her Sights on Service

Opening up about her past as a foster child has been "therapeutic" for Lovelady, who just in the past year has begun sharing her story publically.
"I was nervous to do that, but there was a woman that heard my first speech who told me I had inspired her to look into becoming a foster parent for other teenagers," said Lovelady. "That alone makes sharing my story worth it."
Looking to her future, Lovelady is excited about the opportunities to come and because of where she now stands, feels strongly compelled to give back to others.
"I don't want to be a politician; I don't want to be a successful business woman," said Lovelady. "I want to serve the world, always learning and experiencing new things as I go."
Ultimately, Lovelady plans to pursue a graduate degree in international relations.
"Five years ago, I couldn't see my life past age 18," she added. "But now that I've had years of rewarding college and employment experience, I refuse to be defined as another student that 'could've been.'"
LSC-Montgomery is located at 3200 College Park Drive, one-half mile west of Interstate 45, between Conroe and The Woodlands. For more information about the college, call (936) 273-7000, or visit www.LoneStar.edu/montgomery.

With more than 69,000 students in credit classes for fall 2010, and a total enrollment of more than 85,000, Lone Star College System is the largest institution of higher education in the Houston area, and the fastest-growing community college system in Texas. Dr. Richard Carpenter is the chancellor of LSCS, which consists of five colleges including LSC-CyFair, LSC-Kingwood, LSC-Montgomery, LSC-North Harris, and LSC-Tomball, six centers, LSC-University Park, LSC-University Center at Montgomery, LSC-University Center at University Park, Lone Star Corporate College, and LSC-Online. To learn more visit LoneStar.edu.