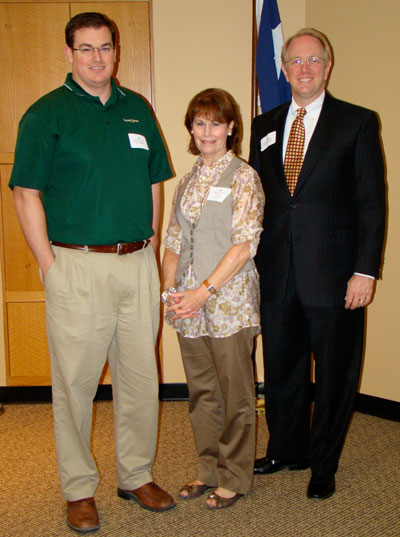 For more than four years, Lone Star College-Montgomery's behavioral and social sciences (BASS) division has worked with community leaders to expose LSC-Montgomery students to a wealth of knowledge during informative presentations known as the POWER SERIES. And last month, the past and present speakers were honored for their efforts with an appreciation breakfast hosted by the BASS division.

"Since the series began, we've documented more than 700 students in attendance at the presentations," said Becky Gustamante, academic dean of the BASS division at LSC-Montgomery. "That's astounding, especially when you consider we had to cancel a few sessions due to Hurricane Ike and the economic downturn."

The POWER SERIES presentations provide students with information on succeeding in the business world. Each month, community experts engage students through interactive presentations, exposing them to various industries including banking, accounting, oil and gas, higher education, staffing, healthcare, and more.

In addition to a professional perspective, many speakers have added a more emotional, human element as they share their life's hardships alongside their personal victories.

"Some of our speakers have found themselves holding successful leadership status while having fresh knowledge of success down in the trenches," said Gustamante. "That message has resonated for many of our students."

Some examples of past presentation topics include What I Wish I Would Have Known, Top Ten Tips for Getting Better Grades in College, Passion & Leadership: Recipe for Success, and How I Reinvented Myself to Move Up, In and Out.

"These community leaders want to support the path of our students as the future generation of professionals," said Gustamante. "Some have even graciously extended to students an open invitation for future contact."

The POWER SERIES was the vision of Matthew Samford, faculty counselor for the BASS division at LSC-Montgomery. Samford worked with others in the department, as well as community leaders, to create this program and see it become a success.

The POWER SERIES includes presenters such as:

Sam Baker, First Bank of Conroe
Michael Barnhill, Entergy
Paul Brown, CyberEvidence, Inc.
Dr. Richard Carpenter, Lone Star College System
Robert Collins, Montgomery County Precinct 3 Commissioner's Office
Judy Larson, Woodforest National Bank
Trey Litel, Softeq Development Corporation
Scott Robertson, Leadership ID
Curtis Samford, Wyman Gordon
Steve Sanders, Memorial Hermann The Woodlands Hospital
Jill Silman, Meador Staffing
Debra Staley, St. Luke's The Woodlands Hospital
Gil Staley, The Woodlands Economic Development Partnership
Debra Sukin, St. Luke's The Woodlands Hospital
Jay Tompkins, Karlins & Ramey, LLC
Chris Turek, November Learning
Susan Vreeland-Wendt, The Woodlands Development Company
Dr. Skip Ward, Shell International
Nick Wolda, The Woodlands Convention & Visitors' Bureau


"We're really pleased with what these leaders and this series has done, and we look forward to how it will continue to grow in the future," said Samford.

For more information on LSC-Montgomery's POWER SERIES, contact Matthew Samford, at (936) 273-7341, or via email at matthew.t.samford@LoneStar.edu.

LSC-Montgomery is located at 3200 College Park Drive, one-half mile west of Interstate 45, between Conroe and The Woodlands. For more information about the college, call (936) 273-7000, or visit www.LoneStar.edu/montgomery.

With more than 69,000 students in credit classes for fall 2010, and a total enrollment of more than 85,000, Lone Star College System is the largest institution of higher education in the Houston area, and the fastest-growing community college system in Texas. Dr. Richard Carpenter is the chancellor of LSCS, which consists of five colleges including LSC-CyFair, LSC-Kingwood, LSC-Montgomery, LSC-North Harris, and LSC-Tomball, six centers, LSC-University Park, LSC-University Center at Montgomery, LSC-University Center at University Park, Lone Star Corporate College, and LSC-Online. To learn more visit LoneStar.edu.