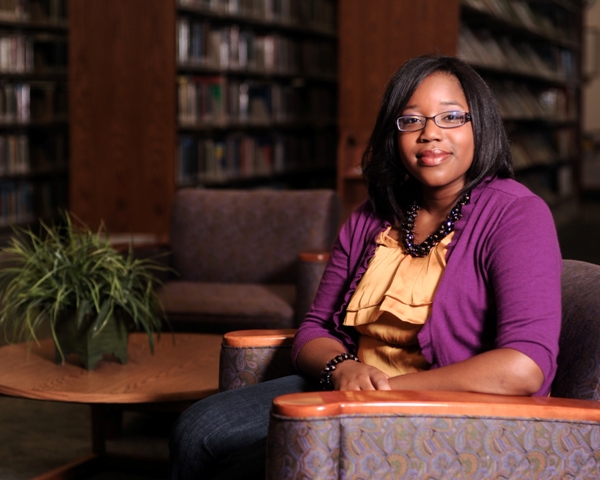 Lone Star College-North Harris student, Chelsey Hayes, was recently chosen as the college's 2011 poet laureate. Hayes, whose interest in poetry began when she was a sophomore at Westfield High School, now is tasked with writing and reciting original poems for a variety of LSC-North Harris events during the upcoming year.
"Not that long ago, 'Roses are red, and violets are blue' were pretty much the extent of my poetry knowledge. Then, while studying poetry in my 10th grade English class, I discovered what it was really about and became very inspired by it. I've been writing ever since," said Hayes.
After hearing about the competition from a friend, Hayes submitted three poems required for entry; one on each of the required topics, Rising Stars and Watch out World Here I Come, and a third on any topic.
"I am completely honored to have won. It is very cool to be recognized for my poetry like this, and I am excited about serving as the college's official poet laureate," she said
Hayes hopes to eventually use her writing skills as a print journalist and broaden her artistic side as an interior designer. After finishing at LSC-North Harris, she plans to transfer to a university and pursue a bachelor's degree in both journalism and interior design.
Lone Star College-North Harris is located at 2700 W.W. Thorne Drive, one-half mile south of FM 1960 East, between Aldine-Westfield and Hardy Roads. For more information about the college, call 281.618.5400 or visit LoneStar.edu/NorthHarris.
With more than 69,000 students in credit classes for fall 2010, and a total enrollment of more than 85,000, Lone Star College System is the largest institution of higher education in the Houston area, and the fastest-growing community college system in Texas. Dr. Richard Carpenter is the chancellor of LSCS, which consists of five colleges including LSC-CyFair, LSC-Kingwood, LSC-Montgomery, LSC-North Harris, and LSC-Tomball, six centers, LSC-University Park, LSC-University Center at Montgomery, LSC-University Center at University Park, Lone Star Corporate College, and LSC-Online. To learn more visit LoneStar.edu.
###