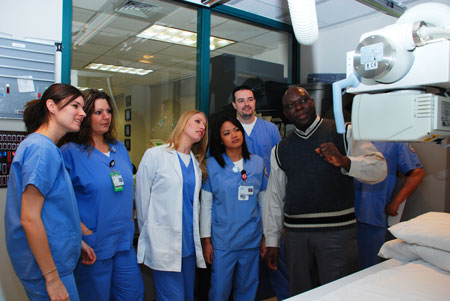 The radiologic technology program at Lone Star College-Montgomery, which trains students for a career in the medical imaging field, is showcasing their program success in a transparent fashion—a 100 percent student pass rate on the national board certification exam.
"All 20 of our Class of 2010 graduates passed the American Registry of Radiologic Technologists (ARRT) national board certification examination on their first attempt, with an overall class average score of 90," said Dr. Francis Ozor, director of LSC-Montgomery's radiologic technology program. "This is just another great achievement for the radiologic technology program and for LSC-Montgomery. "Our achievements are the result of highly dedicated faculty and staff, who are always willing to walk extra miles to guide and help students to achieve their academic dreams. The success is also the result of highly qualified and motivated students, who are willing to pay the price that precipitates academic success."
According to Melanie Hail, associate professor of radiologic technology at LSC-Montgomery, since the program began in 2003, six of the seven graduating classes have seen a 100 percent first-attempt pass rate, setting the cumulative first-attempt pass rate average at 99.3 percent.
"Our graduates go on to do amazing and wonderful things with their careers and futures," said Hail. "Many are already working in the field at area hospitals or clinics. Some of our recent graduates were accepted into Houston Community College's computed tomography program, and others are continuing their education with a bachelor's degree at the University of Texas MD Anderson Cancer Center or Midwestern State University."
LSC-Montgomery offers a two-year associate of applied science degree in medical radiologic technology, preparing students for a career as a radiographer. Radiographers utilize x-rays to create images of body parts and organ systems to aid in the diagnosis and treatment of medical conditions.
Following graduation, students are eligible to complete the ARRT exam to become nationally registered as a radiologic technologist.
To prepare for the exam, Hail explained that students begin taking practice tests offered by St. Catherine's University in St. Paul, MN, at the start of the second year. Additionally, during their last semester, students complete a capstone course that involves a rigorous schedule, a variety of reviews, skills tests, and mock registry exams.
"This type of review demonstrates the strengths and weaknesses in each student, providing our faculty knowledge of what areas need further instruction or need to be reviewed," said Hail.
In addition to the program's ARRT board examination pass rate success, the program continues to grow and contribute to the profession of radiologic technology through student-led professional development and seminars, collaborations with the radiologic technology program at Lone Star College-CyFair, and an upcoming expansion of the lab facility to accommodate new training equipment for the students.
For those interested, LSC-Montgomery is offering information sessions about its medical radiologic technology program on Friday, January 28, at 2 p.m.; Wednesday, February 23, at 2 p.m.; Tuesday, March 29, at 12:30 p.m., and Tuesday, April 26, at 12 p.m. All sessions take place at the LSC-Montgomery campus in Building B, Room 102. No reservations are required.
For more information, please visit
www.LoneStar.edu/medical-radiology-dept-montgomery
.
LSC-Montgomery is located at 3200 College Park Drive, one-half mile west of Interstate 45, between Conroe and The Woodlands. For more information about the college, call 936.273.7000, or visit www.LoneStar.edu/montgomery.

With more than 69,000 students in credit classes for fall 2010, and a total enrollment of more than 85,000, Lone Star College System is the largest institution of higher education in the Houston area, and the fastest-growing community college system in Texas. Dr. Richard Carpenter is the chancellor of LSCS, which consists of five colleges including LSC-CyFair, LSC-Kingwood, LSC-Montgomery, LSC-North Harris, and LSC-Tomball, six centers, LSC-University Park, LSC-University Center at Montgomery, LSC-University Center at University Park, Lone Star Corporate College, and LSC-Online. To learn more visit LoneStar.edu.