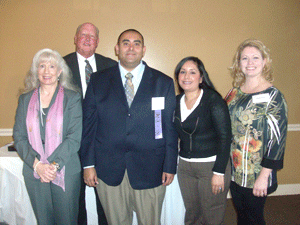 As the winner of the 18th Annual Student Essay Challenge for Lone Star College-Tomball, Jonas Rodriguez of Houston received a $1,000 scholarship from the Lone Star College Foundation on Jan. 26.
As a guest of honor at the Chancellor's Breakfast, Rodriguez read his powerful essay to a room full of Foundation supporters. His essay especially touched the heart of Ginger Fray, his English professor who helped build his confidence and writing skills during his first semester of school and inspired him to enter the essay challenge.
A full-time student, 35-year-old Rodriguez started attending LSC-Tomball in August. Rodriguez, with the support of his wife, chose to pursue a college education in order to open more doors of opportunity for himself. He also wanted to show his children that dreams can be achieved with self-belief, persistence and short-term sacrifice.
Rodriguez will earn his associate degree at LSC-Tomball and then transfer to the University of Houston Northwest Campus, located at LSC-University Park, to earn his bachelor's degree. After he receives his bachelor's degree, Rodriguez will likely earn a master's degree in Psychology or attend law school.
Rodriguez and his wife Beatriz have two children, eight-year-old Diego and two-year-old Elijah.
(Pictured from left to right: Dr. Susan Karr, president of Lone Star College-Tomball, Lynn LeBouef, chief executive officer of Tomball Regional Medical Center, Jonas Rodriguez, winner of the 18th Annual Student Essay Challenge for Lone Star College-Tomball, Beatriz Rodriguez, wife of Jonas Rodriguez and Ginger Fray, adjunct professor at Lone Star College-Tomball.)
# # #

With more than 69,000 students in credit classes for fall 2010 and a total enrollment of more than 85,000, Lone Star College System is the largest institution of higher education in the Houston area and the fastest-growing community college system in Texas. Dr. Richard Carpenter is the chancellor of LSCS, which consists of five colleges: LSC-CyFair, LSC-Kingwood, LSC-Montgomery, LSC-North Harris and LSC-Tomball; six centers; LSC-University Park; LSC-University Center at Montgomery; LSC-University Center at University Park; Lone Star Corporate College; and LSC-Online. To learn more, visit LoneStar.edu.