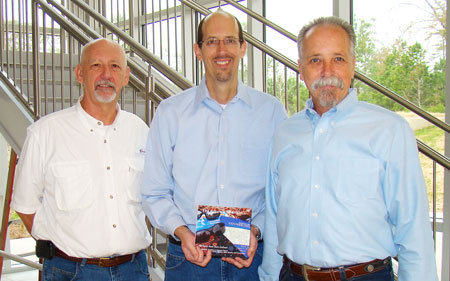 When 11 students in Lone Star College-Montgomery's human services program decided to let their faculty know how much of an impact the program—and their instruction—had made on their lives, they could have written a book on the subject. So, that's what they did. At the end of the Spring 2010 semester, they self-published a book, titled "The Future's So Bright…" In it, the students chronicled their personal journeys that led them to pursue careers in human services, a field that allows them to work with a wide variety of people who need different forms of help. The students also used the book to personally thank the faculty members for their hard work and dedication.
"It was one of the greatest gifts I've ever received as a faculty member, as a person," said Glen Killian, human services faculty member. "It was very emotional to read about the lives of our students, and the impact they said we had made upon their career choice. This book is a compilation of their stories – how they got to our program, what it's been like to be a student in our program, and what we have meant to them as professors. They surprised us with the book at a meeting right before finals week last spring."
Several of the 11 human services student-authors will make a presentation about their efforts at a meeting of the Human Services Student Association on Friday, March 4, 2011, from 11 a.m. to 1 p.m. in the General Academic Center (Building G, Room 102). The presentation will be in the form of a panel discussion, with an opportunity for audience members to hear the students' stories, ask questions, and learn more about the human services field.
One of the students, Kent Lucas, along with Deborah Cannon, took the lead in compiling the material and getting the book published. Lucas, a 57-year-old former businessman and minister, wrote a chapter about his experience, which involved family members suffering with addictions.
"I am finally fulfilling my dreams of returning to college and being in the position to help kids and parents being destroyed by substances," wrote Lucas, who will serve on the panel. "Because of my experience here, and the great instruction, the future is very bright."
Killian, who coordinates the human services program along with full-time faculty member Steve Lewis and part-time instructor Dr. Delores Everard, is passionate about the field of human services and the role that the graduates of the program play in the community.
"Human services is a wide open field," he said. "The types of jobs available to graduates, from chemical dependency counselor to case worker to education specialist, run the gamut. But the common aspect is that they all involve helping others. That's what it's all about."
LSC-Montgomery students have four human service plans to choose from: a certificate in human services; a certificate in substance abuse counseling; an associate degree in human services; and an associate degree in substance abuse counseling.
"LSC-Montgomery students have access to excellent instructors, small class sizes, outstanding student support and tuition that is significantly lower than major universities," Killian said, adding that the college has transfer affiliation agreements with several partner universities, including Sam Houston State University, Our Lady of the Lake, Prairie View A&M University, University of Houston-Victoria, Texas A&M University-Commerce, Stephen F. Austin University, and Springfield College.
"Students are attracted to our program particularly due to the fact that we offer a specialization in substance abuse counseling," said Killian. "We are a pretty small program, which allows us to give our students the individual attention they need and which complements this type of program nicely," said Killian.
"Unfortunately, people are always going to have problems, so there will always be a need for human services training," said Killian. "We are happy to be able to provide an excellent program with nothing but great opportunities for our students in the way of internships and job potential."
For more information about the event, the Human Services Student Organization, or the human services program at LSC-Montgomery, contact Glen Killian, MA LPC, professor and coordinator of the human services program at LSC-Montgomery. He can be reached at 936.273.7061, or via e-mail at glen.h.killian@LoneStar.edu. More information about the program can be found at http://www.lonestar.edu/human-services-dept-montgomery.htm.
LSC-Montgomery is located at 3200 College Park Drive, one-half mile west of Interstate 45, between Conroe and The Woodlands. For more information about the college, call 936.273.7000, or visit www.LoneStar.edu/montgomery.
With more than 69,000 students in credit classes for fall 2010, and a total enrollment of more than 85,000, Lone Star College System is the largest institution of higher education in the Houston area, and the fastest-growing community college system in Texas. Dr. Richard Carpenter is the chancellor of LSCS, which consists of five colleges including LSC-CyFair, LSC-Kingwood, LSC-Montgomery, LSC-North Harris, and LSC-Tomball, six centers, LSC-University Park, LSC-University Center at Montgomery, LSC-University Center at University Park, Lone Star Corporate College, and LSC-Online. To learn more visit LoneStar.edu.