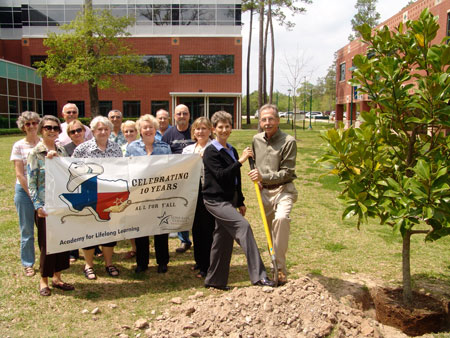 Generations of students to come will enjoy the beauty and shade of a new 12-foot magnolia tree, which was ceremonious planted recently at Lone Star College-Montgomery in recognition of the Academy for Lifelong Learning's (ALL) 10
th
anniversary. The Woodlands Development Company generously donated the tree.
Current ALL chairman Helen Bostock, along with several other past ALL chairs and current members, gathered to recognize the many accomplishments that the organization has experienced since its founding more than a decade ago—and to look forward at things to come.
"The magnolia tree symbolizes the beauty of lifelong learning that the active, older adults in ALL bring to the campus," said Bostock. "For more than 10 years, the active senior community in Montgomery County and beyond has supported ALL by volunteering their time and talents with others. It's comforting to know that future ALL students—as well as traditional college students at LSC-Montgomery—will be able to enjoy this tree."
ALL is a membership organization filled with lectures, seminars, and discussions geared toward the 50-plus retired or semi-retired individual interested in remaining "plugged in" to the academic, learning environment. The classes are informal and informational and cover a variety of topics such as art, computer technology, personal growth, languages, history, travel and more. A small annual membership fee of $35 allows members to take academy courses free of charge or at a minimal rate. The annual membership lasts from September 1 to August 31.
For more information about ALL or to view the schedule of classes, contact LSC-Montgomery's continuing education department at 936.273.7446 or visit www.LoneStar.edu/all-montgomery.