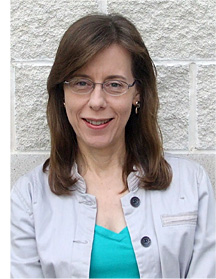 Lone Star College-CyFair Librarian Monica Norem is honored to have been selected to participate in the 2011 Texas Accelerated Library Leaders Institute, more popularly known as the TALL Texans.
Norem is the only one from the Lone Star College System, one of two from Houston and one of 22 from across Texas, chosen to attend the Texas Library Association's (TLA) 17th annual summer leadership institute.
The TALL Texans Leadership Institute features an intensive curriculum covering professional issues from the latest scholarly publications on leadership which will help librarians gain deeper understanding of management, communication, and strategic planning. Norem looks forward to also getting assistance in crafting a "Personal Action Agenda" to set leadership opportunities.
Participants are competitively selected based in part on their leadership experiences. For six years, Norem served on the statewide TexShare Communications Working Group under the auspices of the Texas State Library and Archives Commission. She's also given local and national presentations on topics such as conducting online research, information research tutorials and best practices in virtual reference.
In addition, Norem teamed up with fellow colleagues, like Claire Gunnels and Sharon Miller, to create a number of student activities related to academic integrity. While she served on a system-wide college academic integrity task force, she helped to develop an Academic Integrity and Student Success brochure for students. With librarian Tracy Williams, she initiated a Student Library Research Award enabling students to earn recognition and prizes (supported by the Friends of the Library) for outstanding projects done using library resources.
Another part of the TALL Texans selection is based on the desire to turn learning opportunities into service for libraries, communities and the profession as a whole. This past February, Norem organized a successful community event titled the People's Law School featuring University of Houston Law Center Professor Richard Alderman. A second People's Law School is in the planning stage for November 2011. To give back to her profession, she plans to volunteer at an upcoming Texas Library Association District 8 Conference in Houston area and after more research and discussion with campus partners, she hopes to implement a leadership project.
"I enjoy working in a creative environment like LSC-CyFair where faculty members are interested in new methods to engage and motivate students," said Norem, a founding faculty member and a reference librarian. "I'm pleased to serve on the Teaching and Learning Center Faculty Advisory Board where I can learn about new technology and techniques to help students understand how to research information effectively. Melissa Rotholz and her team provide excellent resources and training on this campus."
Research has remained a constant passion throughout her career which began at the University of Houston Architecture School as a slide curator after graduate school. She later joined the Harris County Public Library System and advanced to branch librarian at Bear Creek Library (now the Katherine Tyra Branch.) She then moved into higher education working 11 years at Lone Star College-North Harris before transferring to LSC-CyFair.
"I've gained valuable research experience over the years and am skilled at helping people learn time-saving techniques for getting essential information," said Norem. "I've always enjoyed looking up facts and actually welcomed researching topics for term papers in school. Finding an elusive piece of information is actually quite rewarding."
For information on the TLA, go to www.txla.org. For information on LSC-CyFair and the LSC-CyFair Branch Library, go to LoneStar.edu.

About the Texas Library Association
TLA is the largest state library association in the United States with more than 7,500 members who work in public, school, academic, and special libraries, plus library vendors and citizens who support libraries. TLA offers a wide range of services, including an annual conference that attracts more than 8,000 librarians and exhibitors, a leadership development program, continuing education, legislative advocacy, and publications. For more information, see www.txla.org or call 512-328-1518.