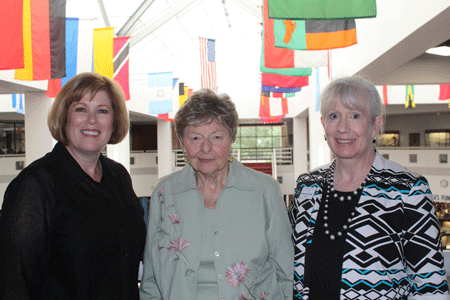 Just $100 for tuition and fees as well as a housing option stood in the way of Marion D. Hanson's aspiration of becoming a nurse. The young woman from Chicopee, Massachusetts, did not have the financial resources necessary for her education so she gave up her dream and found a job. Hanson later married and raised her family.
Though she has led a fulfilling and fortunate life, the long-time Stagecoach resident now wants to give someone the only thing she never had: the chance to become a nurse.
Hanson recently donated $75,000 to the Lone Star College Foundation to fund an endowment at Lone Star College-Tomball (LSC-Tomball). The endowment will allow the college to award an annual $5,000 scholarship to a prospective student with a commitment to a career in nursing. The amount is enough to cover tuition, fees, books and expenses for an Associate Degree of Nursing (ADN) at LSC-Tomball.
This philanthropist and animal lover has also donated a $2,000 scholarship to benefit a second-year Veterinary Technology student. She has plans to endow that additional scholarship in the future.
Hanson and her family moved to Magnolia in 1977. In 1978, she began volunteering at Tomball Regional Medical Center, where she served for almost 30 years. Like many OWLS, an acronym that stands for Older, Wiser, Livelier Souls, Hanson believes in staying active and giving back to her community, sharing not just her pocketbook but her time.
Hanson was married to Robert "Bob" E. Hanson. Her late husband had a long and distinguished career as an engineer with Shell Chemical. Hanson has four children and 10 grandchildren, and she has encouraged all of them to attend college and pursue their dreams.
Pictured, from left to right: Darcy Mingoia, Foundation executive director, Marion Hanson of Stagecoach and Dr. Susan Karr.