Lone Star College-CyFair students interested in logistics technology and who are members of the college's student Supply Chain Industry Distribution Organization (SIDO) recently gained some personal insight and professional connections in the industry with two spring events.
First, SIDO students Jesse Grabowski – club president, Roger Carazo, Patrick Kariu, Hannah Ignacio, Mohammed Kamran, Sogenzo Tyali, Flavia Beals and Amos Shokunbi, along with club sponsor and logistics professor Ruben Howard, toured Houston Transtar.
A partnership of four agencies including The Texas Department of Transportation (TXDOT), Harris County, the Metropolitan Transit Authority of Harris County (METRO) and the City of Houston, Transtar is responsible for providing transportation management and emergency management services to the Greater Houston region.
Then Kamran, Tyali, Ignacio and Shokunbi, along with Howard and Samuel Holmes, who is a University of Houston student and former LSC-CyFair student, participated in the Council of Supply Chain Management Professional (CSCMP) Houston Roundtable Mentor Day.
Serving as mentors for the LSC-CyFair Logistics Management Program students were Mediterranean Shipping Company Sales Executive Brian Zirkle and Glacier Foods Director of Compliance and Logistics Glenn Lutton.
Howard and his students heard about the challenges of the food distribution industry and toured the Glacier Food Distribution Facility prior to a luncheon at the Houston Hobby Center. The luncheon included networking opportunities with supply chain industry professionals and a presentation and discussion with a team of supply chain recruiters on the industry's job outlook, interview skills, salaries and job opportunities.
In addition to the student club, established with the goal of enabling students to have greater connections to the supply chain industry and gain a better understanding of the world of logistics technology, especially through interaction with Houston-area logistics professionals and organizations, LSC-CyFair offers an AAS degree in Logistics Management as well as several certificate programs.
For SIDO or logistics program information, contact Howard at 281.290.5233.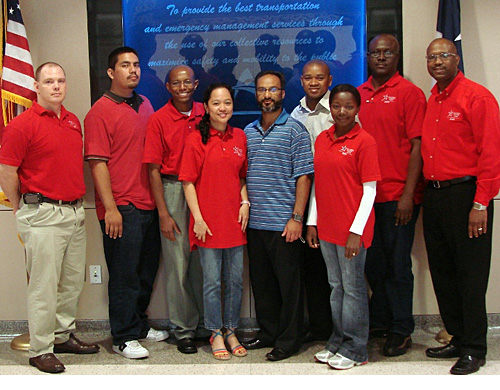 Touring Houston Transtar were from left, Lone Star College-CyFair's Jesse Grabowski, Roger Carazo, Patrick Kariu, Hannah Ignacio, Mohammed Kamran, Sogenzo Tyali, Flavia Beals, Amos Shokunbi and Professor Ruben Howard.