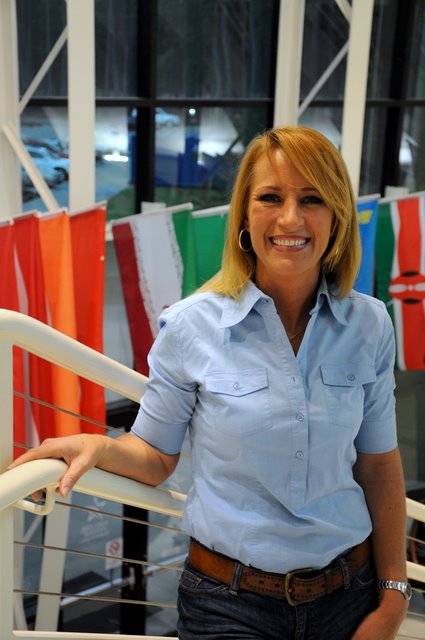 In April 2010, Gayle Juarez attended an open house at Lone Star College-North Harris with her 18-year-old daughter and her daughter's friend. Her only goal for the evening was to entertain the friend's baby, while the two girls explored their college options. However, before the night was over, she had enrolled in the college's GED program and had started on a path toward her new career as an Emergency Medical Technician.
"It was just me and the baby, sitting off by ourselves," said Juarez. "Then, someone with the college came over and started a conversation with me. Her friendliness and warmth triggered something and I realized it was time pursue the career I always wanted, and LSC-North Harris was the place to do so."
Juarez describes herself a stuck working in real estate and property management with no real chance of moving up to anything better. She knew her lack of education was separating her from a career she could actually enjoy.
"It was always my dream to be a first responder. I come from a family of police officers, but I have a passion for the medical field," said Juarez. "Ever since I was young, I was the one pulling out Neosporin and band-aids when anyone got a scratch."
She knew there would be all sorts of obstacles in her way. The cost and time commitment were a significant concern, but the support of her family, and the LSC-North Harris staff, never wavered.
Now, barely a year later, in addition to earning her GED, she has successfully completed the EMT Basic program. She recently began her first job working as an EMT for an ambulance company in The Woodlands.
"My ultimate goal is to become a paramedic," said Juarez. "I've already enrolled in the EMT Intermediate program so I'm well on my way. Hopefully, within a couple years I will have reached my goal, but in the meantime I'm completely thrilled with what I have already accomplished."
On Friday, May 20, Juarez will serve as the student speaker at the 2011 LSC-North Harris GED Graduation. The ceremony will recognize nearly 250 students who have completed the GED program in the past year.
For more information about the GED program or the upcoming graduation ceremony, call 281.618.5701.
Lone Star College-North Harris is located at 2700 W.W. Thorne Drive, one-half mile south of FM 1960 East, between Aldine-Westfield and Hardy Roads. For more information about the college, call 281.618.5400 or visit LoneStar.edu/NorthHarris.
With more than 69,000 students in credit classes for fall 2010, and a total enrollment of more than 85,000, Lone Star College System is the largest institution of higher education in the Houston area, and the fastest-growing community college system in Texas. Dr. Richard Carpenter is the chancellor of LSCS, which consists of five colleges including LSC-CyFair, LSC-Kingwood, LSC-Montgomery, LSC-North Harris, and LSC-Tomball, six centers, LSC-University Park, LSC-University Center at Montgomery, LSC-University Center at University Park, Lone Star Corporate College, and LSC-Online. To learn more visit LoneStar.edu.
###