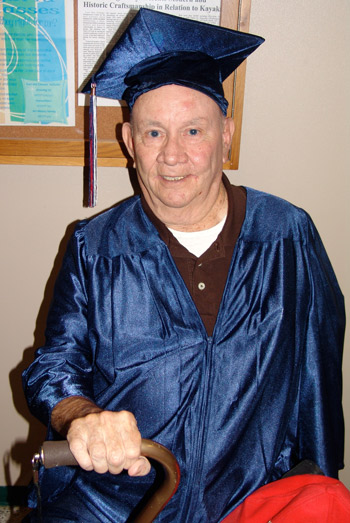 Lone Star College-Montgomery celebrated the accomplishments of 36 students at the annual General Education Development (GED) graduation ceremony, held recently in the college's Performing Arts Center. The ceremony honored more than 170 students who took the preparation course and passed the GED exam during the past year, marking an important step in enhancing their future.
"LSC-Montgomery is proud of its GED graduates and the many success stories that come from this program," said Celyn Christophe, director of continuing education at LSC-Montgomery. "A GED certificate will open up new possibilities and allow these students to become eligible for jobs for which they would otherwise not be qualified."
Such is the case for Lea Croston, a single mother of four children who, after being laid off last year, earned her GED this March in order to be able to apply for a more secure job.
"I was really scared since I hadn't been in school for 45 years," said Croston, who was the student speaker at the GED graduation ceremony. "I signed up for night classes, and with the help of my instructor, I achieved my diploma."
Croston plans to earn an associate degree and pursue a career in counseling.
"I realize now that there are so many opportunities out there," Croston said. "I've already signed up for classes at LSC-Montgomery to further my education beyond the GED. The sky is truly the limit."
Another student participating in the ceremony was 76-year-old Robert Stiles, a retired petrochemical worker from Shenandoah who "never took the time" to finish high school.
"It was more for self-pride than anything," said Stiles, who added that he is now helping his 13-year-old grandson with his school studies. "The GED program at LSC-Montgomery was fantastic—the resources they gave us and the instructors, too. I wonder how many promotions I missed without a diploma. I know that more doors would have been open to me."
During the ceremony, the top three students with the highest GED test scores were recognized with a scholarship. Cameron Britt, Ricardo Ocampo, and Breanna Wierz each received $500 to put toward their education.
"A GED will help make a person eligible for higher education, if that's their goal, as it will increase their chance of being accepted into the college of their choice," said Christophe. "In today's world, the more education a person has, the better his or her chances are for success."
Dr. Austin A. Lane, president of LSC-Montgomery, presided over the ceremony, and a reception for the graduates and their friends and families immediately followed.
The GED program—first developed to provide returning World War II veterans with an opportunity to earn high school credentials—has served as a bridge to education and employment opportunities for an estimated 15 million since 1942. Today, approximately one in seven high school diplomas issued in the United States each year is a GED diploma.
LSC-Montgomery offers the GED review course and the GED test—both in English and in Spanish. Students must be 17 years of age or have parent or guardian permission to take either one.
During the GED review class, students use specialized computer software and work independently on the computer under the guidance of an instructor to prepare for the GED test, which includes sections on writing, math, science, social studies, and literature and the arts.
The GED preparation and testing center is at Lone Star College-Conroe Center, which is located just off FM 3083 at 777 Conroe Park North Drive in Conroe.
For more information about the college's GED program, call 936.273.7446.
LSC-Montgomery is located at 3200 College Park Drive, one-half mile west of Interstate 45, between Conroe and The Woodlands. For more information about the college, call 936.273.7000, or visit www.LoneStar.edu/montgomery.

With more than 69,000 students in credit classes for fall 2010, and a total enrollment of more than 85,000, Lone Star College System is the largest institution of higher education in the Houston area, and the fastest-growing community college system in Texas. Dr. Richard Carpenter is the chancellor of LSCS, which consists of five colleges including LSC-CyFair, LSC-Kingwood, LSC-Montgomery, LSC-North Harris, and LSC-Tomball, six centers, LSC-University Park, LSC-University Center at Montgomery, LSC-University Center at University Park, Lone Star Corporate College, and LSC-Online. To learn more visit LoneStar.edu.