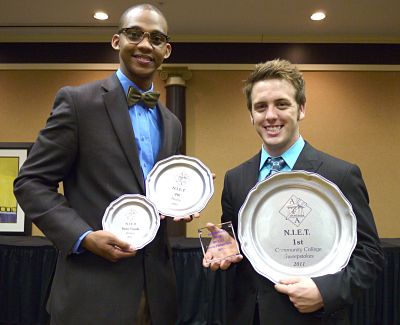 Lone Star College-North Harris was recently named the Top Community College at this year's American Forensics Association's National Individual Event Tournament. The tournament, held in Kearney, Nebraska, featured 475 participants from 83 colleges and universities, including 10 other community colleges.
"I am extremely proud of what my students were able to achieve this year. This is a prestigious tournament designed to have the best of the best compete, so simply qualifying was quite an accomplishment," said Wade Hescht, LSC-North Harris speech professor.
The honor comes on the heels of taking the top spot at the Phi Rho Pi National Tournament, an annual community-college-only tournament held in April.
At this most recent tournament, LSC-North Harris was the only community college to have students move onto semi-final or final rounds. They competed against a number of universities including George Mason, Rice, Texas and Arizona State.
Two LSC-North Harris students ranked among the top students at the tournament in multiple categories.
Kaybee Brown placed fourth out 135 entrants in Poetry Interpretation. He also made the semi finals of the Dramatic Interpretation competition, putting him in the top 12 of 144 participants. Joey Chance was a quarterfinalist in Prose Interpretation, placing him in the top 24 out of 165 entries.
As a first-year member of the forensics team, Brown's previous experience performing in front of an audience was limited to roles in high school theater productions. Despite the differences, he found success.
"In theater, it's much easier to block out the audience and focus on your character and your lines. At these tournaments, it is a much different situation. You see the reactions of the judges and the other students who are watching you perform, but you can't let it distract you. The addition of that human element makes it much more difficult than being in a play," said Brown.
In these competitions, students are judged on their ability to perform excerpts from one or more existing works in a single category, such as poetry, dramatic scripts, or novels and short stories.
Brown, who plans to take online classes at the college in the fall, will compete with the LSC-North Harris team again next year.
"I loved it and I am looking forward to doing it again. Professor Hescht is an incredible coach and challenged us all to do our best. Hopefully, one day I'll be teaching theater and coaching speech so that I can help students, like he has helped me."
Hescht is looking forward to seeing Brown, and his other students, succeed at future competitions.
"Working with these students is such an amazing experience. Seeing them recognized for their hard work, and watching their confidence grow as the year progresses is incredibly rewarding," he said.
Lone Star College-North Harris is located at 2700 W.W. Thorne Drive, one-half mile south of FM 1960 East, between Aldine-Westfield and Hardy Roads. For more information about the college, call 281.618.5400 or visit LoneStar.edu/NorthHarris.
With more than 69,000 students in credit classes for fall 2010, and a total enrollment of more than 85,000, Lone Star College System is the largest institution of higher education in the Houston area, and the fastest-growing community college system in Texas. Dr. Richard Carpenter is the chancellor of LSCS, which consists of five colleges including LSC-CyFair, LSC-Kingwood, LSC-Montgomery, LSC-North Harris, and LSC-Tomball, six centers, LSC-University Park, LSC-University Center at Montgomery, LSC-University Center at University Park, Lone Star Corporate College, and LSC-Online. To learn more visit LoneStar.edu.
###