The Lone Star College-CyFair's 2010-2011 Student Library Research Award winners Cody Beers, Scott Liebling and Misty Nikel not only earned recognition and a grade for their research projects, but they also received $500, $300 and $100 respectively.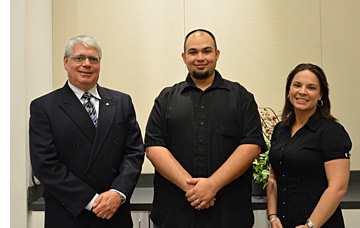 The Student Library Research Award recognizes annually the best student research projects that find, evaluate, select and communicate information from library resources effectively. Faculty members nominate the student research projects and the volunteer organization, Friends of the Library at LSC-CyFair, generously fund the research award.
"Our mission is to promote interest in the library and support the library in its service to LSC-CyFair students and the community," said Joan Everson, president of Friends of the Library at LSC-CyFair. "When the idea of a research paper award was presented to the board, we were unanimous in our support. This seemed like an excellent way to both promote use of the library and reward students for the efforts."
Beers, who is transferring to the University of Houston this fall to pursue a computer science degree, took first-place with an English project for adjunct professor Patricia Healy titled "Daddy Complex."
Liebling, who takes courses for personal enrichment because he believes learning is a lifelong endeavor, took second-place with his political science project for Professor Heidi Jo Green titled "The Societal Effects of the Decline of Organized Labor in the United States."
"It was an honor merely to learn that Professor Green considered my work worthy of nomination, whether it resulted in an award or not," said this retiree from a 29-year career as an engineering officer in the U. S. Merchant Marine. "To actually win the award is something of a bonus. The real value in this award is the pride of being on a campus where the instructors challenge me to perform to the best of my abilities each day."
Nikel, who just completed her first semester at LSC-CyFair in her pursuit to become an RN and work in pediatrics, took third-place with her English project also for Healy titled "Reform for U.S. - China Trade."
"I was very surprised when I learned I won this award," she said. "I could have never imagined a paper that I wrote for an assignment in class would turn into an awesome accomplishment in my college career."
Nikel said she was excited to learn about the library's resources and online databases.
"It made the research portion of my essay very efficient and helped me with producing a great quality research essay," she said.
Liebling said the research project was not overwhelming because he divided the sections into manageable pieces, tying them together as he progressed.
"The greatest challenge was distilling the incredible amount of information available into the limitations of length and format," he said. "I found the entire process of moving from a question to a conclusion a worthy and challenging academic exercise and derived quite a bit of personal satisfaction as the project progressed."
Liebling added that he valued his professor's feedback and support as well as his wife's patience as a sounding board and the always helpful library staff ready to assist from the mundane to the complex.
For information on the Student Library Research Award, go to LoneStar.edu/library/award. For information on the library's resources, databases and more, go to LoneStar.edu/library.