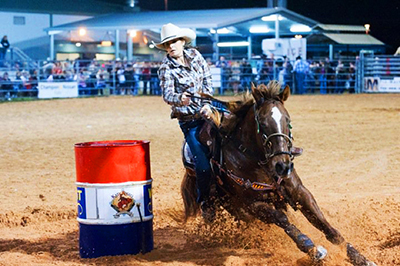 Don't let her petite frame fool you—Lauren Sparks, a student at Lone Star College-Montgomery, has more tenacity than a buckin' bull and more confidence than the finest steer.
Backed by a team of loved ones, Lauren has used her unwavering resolve to fight for her future, her health, and a spot in the National Intercollegiate Rodeo Association's (NIRA) national championship, to be held June 12-18 in Casper, Wyo.
"I'm very excited, but not too nervous," said the 19-year-old from Conroe. "I've been to other big rodeos before, and some of the regional competitions seemed more nerve-wracking."
Lauren competes as a barrel racer with the Lone Star College Intercollegiate Rodeo Team, which is in its first year of existence. With scores placing her third in the NIRA's Southern Region, which pegs Lauren and her teammates against 12 colleges, including major universities like Sam Houston State University (SHSU) and Texas A&M University, Lauren qualified to compete on a national level for an NIRA championship title. Only three females from within the Southern Region qualified for this prestigious position in barrel racing.
But it's been quite a long haul to get there.
"We've had just about everything happen—from Lauren getting sick to her horse getting hurt to hitting a barrel during a rodeo," said Rose Sparks, Lauren's mother and one of the team's coaches. "But God has a plan, and He had it all mapped out. Lauren is blessed to have this gift."
Giving Illness The Boot

Lauren surmounted her first obstacle early on as a five-year-old when she found herself needing a life-saving bone marrow transplant. The best donor option was her twin brother, Lane.
"Even today he goes beyond the call of a brother," said Rose. "He's our biggest support—the boss, really—who keeps us on track and helps us prepare for every race."
Lane is Lauren's 'right-hand,' researching rodeos and competitors, taking care of the horses, hooking up the trailer, and doing whatever needs to be done.
"I'm pretty competitive, too, and I get as much joy from her winning as she does," said Lane, who is also a student at LSC-Montgomery and club president for the rodeo team.
"Lane really does put up with a lot," said Lauren with a smile. "He's my manager, and well, he gets me straight."
Growing up, Lauren competed in rodeo championships, overcoming the setbacks of four broken arms, a broken femur, a broken shoulder, a rare genetic disorder, hemolytic uremic syndrome (HUS), which is a disease that destroys red blood cells and causes short-term kidney failure, and most recently, necessary blood transfusions and a bone marrow aspiration in her hip.
"It's kind of funny because this semester, I got a blood transfusion on a Wednesday, and then Thursday, I was on the road leaving for the rodeo," said Lauren. "I was a 'dead-man-walking' one day, but it was like a rechargeable battery."
Round Up The Team

The Lone Star College Intercollegiate Rodeo Team formed in the fall of 2010 with the help of Casey Olson, a former LSC-Montgomery student. During a recruiting session, Olson 'roped in' James Zipperer, professor of economics at LSC-Montgomery, to help serve as the faculty advisor/coach.
Lauren, choosing LSC-Montgomery in part for its radiology program and in part for its location—close to home and close to her horse, Belle—joined the team soon after it started up.
With the support of Zipperer, Lane, Rose, and two close friends and teammates—Rachel Wood and Jeannette Carlson, Lauren made it through the 2010-2011 rodeo season despite coming into the season late, struggles in her math class, hitting barrels during a race, and losing to the reigning female barrel racer champion twice by 1/1000th and 3/1000th of a second.
"Lauren missed three out of 10 rodeos, but still managed to place third out of 144 female barrel racers," said Zipperer. "We are all fighting for her, even to the point of using rubber bands to keep her feet in the stirrups during competitions."
Time For The Showdown

Lauren and her support team will make the 2,600-mile drive to Casper, Wyo., in early June to acclimate the horses and prepare for the national rodeo. Since pulling a horse trailer through mountain terrain is no easy feat, Shooter's Station in Conroe has donated the money to get the team there and back.
Another sponsor, Dr. Brian McGee, is Lauren's oldest brother. A chiropractor with Sadler Clinic and a trained equine chiropractor, Dr. McGee supports Lauren's rodeo efforts as a loving big brother and as a doctor, performing chiropractic work on both Lauren and her horse.
"It's truly a family deal," said Rose. "It takes a lot to do this, and the whole family supports her."
"You'd never know Lauren is as good as she is because she doesn't like to draw attention to herself or boast about her talent," said Zipperer. "I expect to see her at least in the finals at nationals. She's amazing, and the team centers around her."
For more information about the Lone Star College Intercollegiate Rodeo Team, contact James Zipperer at 936.273.7348 or
James.F.Zipperer@LoneStar.edu
.
LSC-Montgomery is located at 3200 College Park Drive, one-half mile west of Interstate 45, between Conroe and The Woodlands. For more information about the college, call 936.273.7000, or visit www.LoneStar.edu/montgomery.

With more than 69,000 students in credit classes for fall 2010, and a total enrollment of more than 85,000, Lone Star College System is the largest institution of higher education in the Houston area, and the fastest-growing community college system in Texas. Dr. Richard Carpenter is the chancellor of LSCS, which consists of five colleges including LSC-CyFair, LSC-Kingwood, LSC-Montgomery, LSC-North Harris, and LSC-Tomball, six centers, LSC-University Park, LSC-University Center at Montgomery, LSC-University Center at University Park, Lone Star Corporate College, and LSC-Online. To learn more visit LoneStar.edu.