NOTE: The following article appeared on yourTOMBALLnews.com, powered by The Tomball Potpourri. Read the original article here.
By CHRISTINA HAYDEN
Houston Community Newspapers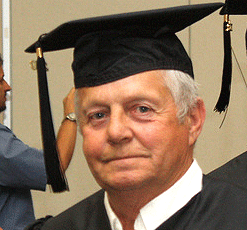 Halfway through his senior year of high school, Mike Spengler made the decision to temporarily leave school behind to fight in the Vietnam War at the age of 17.
In February of 1966, Spengler joined the Marine Corps, but not before promising his mother that he would one day complete his education.
Spengler said he was originally trained as a tank mechanic, and when he returned from his tour in Vietnam he was an instructor at the vehicle repair school at Camp Pendleton.
"I was teaching the new recruits who had gotten out of boot camp the ways of working on diesel engines," he said.
Spengler finished his service with an honorable discharge in February of 1970.
From there he worked numerous different jobs including owning his own business, Spengler said.
Now living in Spring, it was while applying for a job as a security officer that he was asked about his high school degree.
"I was in a room with a bunch of younger people and I was embarrassed to say anything at the time," he said.
Spengler said soon after he went to Lone Star College in Tomball to take the preliminary test for general education development without any difficulties.
When the day for the state required exam came Spengler passed it as well.
"I hadn't done any schooling since I got out of high school," he said.
On May 26, Spengler took part in the Second Annual General Education Development Graduation Ceremony at LSC-Tomball in the Beckendorf Conference Center. The 62-year-old veteran was chosen as the student speaker to address the crowd and the other GED recipients of the Continuing Education Program at LSC-Tomball.
"Each of you has taken the first step towards more education by getting your GED," Spengler said to the GED recipients. "You won't ever be denied an opportunity, because you didn't graduate from high school."
Spengler said he encourages for the GED recipients to continue to learn all that they can.
Now that he has his GED, Spengler said he plans to go to Lone Star and take additional classes and his goal is to work with at risk youth.
"I've always had a weak spot for kids," he said. "There are so many throw away kids in this world."
His wife Debora Spengler said her husband has been very excited about receiving his GED and it means a lot to him.
Mike Spengler said even though his mother never had the chance to see him receive his diploma, he is very proud to have kept his promise to her.