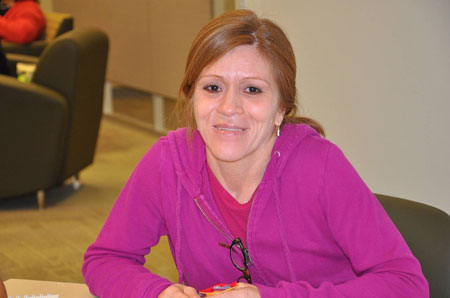 When Leticia Weathers, a student at Lone Star College-Conroe Center, was searching for a job last fall, she found only closed doors. Without her high school diploma or general education development (GED) certificate, Weathers, a mother of two, just couldn't find the right opportunity.
But thanks to a scholarship provided by a $1.5 million grant, Weathers was recently able to work toward her GED and simultaneously become certified as a nurse's aide—for practically no cost.
"It's been a wonderful blessing to have the opportunity to start a new career," said Weathers. "I knew I couldn't afford to go back to school, especially when I have to take care of my kids. But now, I am confident in this career and am ready for the next step."
The Texas Higher Education Coordinating Board awarded Lone Star College-Montgomery the Developmental Education Demonstrations Projects grant in July of 2010. While most of the grant is dedicated to developmental education at the LSC-Montgomery campus, approximately $500,000 is being used to enhance adult basic education and English for Speakers of Other Languages (ESOL) programs offered at LSC-Conroe Center.
Structured for those who don't have their high school diploma or GED or those whose primary language is not English, the grant provides scholarships for students to co-enroll in either the certified nurse's aide program or the welding I program at Lone Star College-Conroe Center along with concurrent programs like GED or ESOL or college-readiness courses.
Students in the program receive individualized support like advising and tutoring, as well as support with class skills and terminology and access to online GED preparation software.
"This grant is providing students a way to learn a new skill and hopefully, move on in their career," said Tristyn Davis, an advisor at LSC-Conroe Center "We want to see them be successful, so we'll even discuss their barriers like transportation or childcare."
During the spring, the grant allowed 14 students to complete the eight-week certified nurse's aide program at LSC-Conroe Center. Of those that have gone on to take the state nurse's aide certification test, 100 percent have passed.
In addition, the grant is helping seven students work toward their welding I certificate, which includes a course in blue print reading, a much-needed skill in the welding industry.
"Being a part of this grant program was awesome," said Weathers. "A lot of people don't have the resources to go back to school, but through this grant, many are getting the chance to change their lives and the lives of their loved ones for the better."
For those interested in earning their GED, learning a new skill, and ultimately, making a life change, LSC-Conroe Center may be able to provide qualifying students the tuition scholarships and college-readiness support that Weathers and the other students received.
For those students interested in learning more about the grant, LSC-Conroe Center is offering orientation programs every Monday through August 29, 2011, with the exception of Monday, July 4, when the college will be closed. The orientation takes place at LSC-Conroe Center, Room CC128, at 12:30 p.m.
For more information or to see if you qualify, contact Tristyn Davis at 936.521.4536 or
Tristyn.Davis@LoneStar.edu
; or Elaine Scogin at 936.521.4537 or
Elaine.Scogin@LoneStar.edu
.
LSC-Montgomery is located at 3200 College Park Drive, one-half mile west of Interstate 45, between Conroe and The Woodlands. For more information about the college, call 936.273.7000, or visit www.LoneStar.edu/montgomery.

With more than 69,000 students in credit classes for fall 2010, and a total enrollment of more than 85,000, Lone Star College System is the largest institution of higher education in the Houston area, and the fastest-growing community college system in Texas. Dr. Richard Carpenter is the chancellor of LSCS, which consists of five colleges including LSC-CyFair, LSC-Kingwood, LSC-Montgomery, LSC-North Harris, and LSC-Tomball, six centers, LSC-University Park, LSC-University Center at Montgomery, LSC-University Center at University Park, Lone Star Corporate College, and LSC-Online. To learn more visit LoneStar.edu.