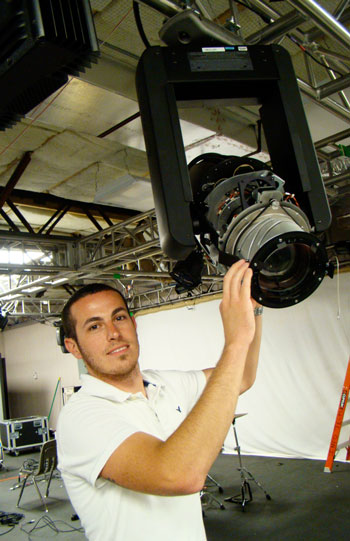 For the tech-savvy student who prefers '
shining
the spotlight' to '
being in
the spotlight,' Lone Star College-Montgomery offers the live entertainment technology program, which focuses on the technical needs of the entertainment industry.
Formerly known as the audio visual systems specialist program, the live entertainment technology program trains students to design, set-up, and operate lighting, video, and audio equipment. This includes microphones, sound speakers, projectors, recording equipment, sound and mixing boards, and more—everything needed for an elaborate production.
"It's more than just plugging in some lights and having a player for music," said Rob Kreps, program director and associate professor of theatre at LSC-Montgomery. "We are talking about some very intricate and highly technical computerized systems that work together to provide the best sound and lighting experience."
LSC-Montgomery is the only college in the state and one of only a few nationwide that offers the live entertainment technology program. Three levels of training are available—a Level I Certificate, which can be completed in one year; a Level II Certificate, which can be completed in a year-and-a-half; and an associate of applied science degree, which can be completed in two years. All levels include internship experience for the students. Courses for the certificates apply to the associate of applied science degree, and many courses will transfer to other colleges as a springboard for a degree in other fields including technical theatre, lighting design, and computer information systems.
According to Kreps, specialists trained in this field can work in just about any industry including theatre and concert hall management, corporations, churches, hotels or sporting venues.
"Right now, there are so many different directions I want to go," said Darien Kearney, a student on the associate degree track. "This degree will open up many avenues for me. The program allows me to be artistic while challenging me to be better every time I do a show."
Kearney, along with other live entertainment technology students, is provided hands-on instruction in the college's state-of-the-art audio video lighting lab, as well as information and guidance from top industry professionals. During their internships, students work with professional companies like Bright Star Productions or The Woodlands Church to gain experience in the field.
"The internships definitely prepare you for the real world," said Kearney. "I become more comfortable each time I work for a company and learn what to say and what to do in real life situations."
Another student, Keenan Brooks, has gained real world experience by working with the audio visual portion of the college's theatre department.
"I've even been able to work on the road, traveling to the American College Theatre Festival with the theatre show," said Brooks. "This program helped me find my goal in life and unlocked my passion for arts in theatre. I plan to continue my education all the way to a master of fine arts degree in lighting design."
According to the America's Career InfoNet Occupation Report, employment in this field is expected to grow faster than average through 2016. In Texas, technicians average $13.51 an hour and can earn more than $24.48 an hour.
"This program is best suited for students who are self-starters and self-disciplined, enjoy projects, and are interested in hands-on, practical training," said Chase Waites, lead faculty member for the program at LSC-Montgomery. "It's a very well rounded experience for students, from the training to the internship and then hopefully, right into employment, which shouldn't be a difficult transition given today's needs."
For more information about the live entertainment technology program, contact Rob Kreps at
Robert.P.Kreps@LoneStar.edu
or 936.271.7000.
LSC-Montgomery is located at 3200 College Park Drive, one-half mile west of Interstate 45, between Conroe and The Woodlands. For more information about the college, call 936.273.7000, or visit www.LoneStar.edu/montgomery.

With more than 69,000 students in credit classes for fall 2010, and a total enrollment of more than 85,000, Lone Star College System is the largest institution of higher education in the Houston area, and the fastest-growing community college system in Texas. Dr. Richard Carpenter is the chancellor of LSCS, which consists of five colleges including LSC-CyFair, LSC-Kingwood, LSC-Montgomery, LSC-North Harris, and LSC-Tomball, six centers, LSC-University Park, LSC-University Center at Montgomery, LSC-University Center at University Park, Lone Star Corporate College, and LSC-Online. To learn more visit LoneStar.edu.