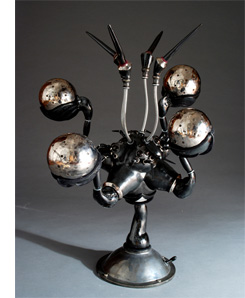 A former student artist and a current adjunct faculty member team up for "when the lights go out" exhibition on display through Aug. 30 through Sept. 29 at Lone Star College-CyFair.
The Bosque Gallery art exhibition season kicks off with the work of Kelley Eggert, a ceramics artist who currently teaches art at LSC-Montgomery, and Jessica Rice, a former LSC-CyFair art student who took first-place for her self-portrait in the 2010 student exhibition.
Eggert blurs the lines between "natural" and "manmade" in referencing genetic modification and biomorphic products resulting in frightening, edgy, ceramic sculptures that leap from the walls. Rice's paintings research the dreams, imaginations and fears of a child.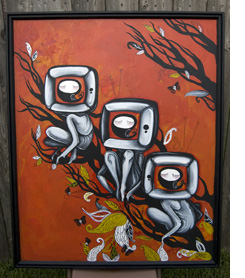 Come see Eggert's sculptures, which embody both organism and machine, and Rice's art, which contains fragments of her childhood interests and fascination.
Don't miss the opportunity to meet both visiting artists at a reception set from 4:30 p.m. to 6:30 p.m. Thursday, Sept. 15.
The Bosque Gallery is located in the Center for the Arts building on the Barker Cypress campus at 9191 Barker Cypress. Gallery hours are 11 a.m. to 2 p.m. Tuesday through Thursday.
For gallery information, go to LoneStar.edu/bosquegallery or call 832.482.1038.