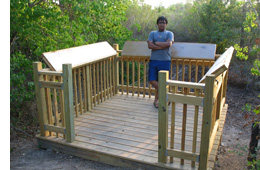 In addition to welcoming new students this fall and opening new buildings at Lone Star College-CyFair, the Barker Cypress campus is home to a new outdoor observation deck thanks to Boy Scout Akshay Fegade.
A member of Boy Scout Troop 1014, Fegade is a student at Cy-Fair High School who plans to major in computer software engineering and programming in college. In his hunt for an Eagle Scout project, Fegade said he found himself and his father, Yogesh, in a meeting with LSC-CyFair's Dean of Science and Public Services Dr. Ted Lewis and Professor Tim Sebesta.
"After some discussion, we settled on building an 8-foot by 8-foot observation deck that now resides behind the college (just northwest of the tennis courts)," said Fegade. "This observation deck is available for faculty, students, staff and community members to use for observing nature and studying insects, plants, birds and more."
The deck overlooks a seasonal marsh area that attracts various waterfowl and other aquatic life. Along three sides of the deck railing are slanted information holders covered with acrylic sheets to hold laminated information.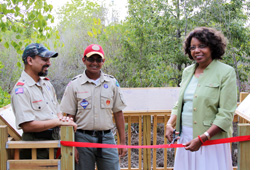 "This observation deck is a wonderful addition to our Outdoor Learning Center, a collaborative project between many groups," said Dr. Lewis. "Classes (building and construction, biology, environmental science) and student clubs (the Wildlife Society and the Environment Club) have designed and built projects in this area such as a nature trail, a teaching stage and benches. In addition, Eagle Scout candidates have developed projects that benefit the Outdoor Learning Center, such as a bridge that connects this area with the campus and now an observation deck (Akshay's project)."
The deck project came to fruition thanks to a lot of volunteers who pitched in, said Fegade. And one life lesson he learned was that all plans, no matter how good they seem, will have some problems to work around.
"Compromising is critical to ensuring the success of the plan," he said. "I feel as though the project was a great success. All in all I think that the deck will be beneficial to the college and community for many years to come."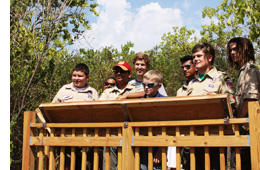 Fegade began his Scouting experience eight and half years ago and is now only one requirement away from Eagle. Over the years, his father has drawn on his own experience as a Scout in India to give advice such as how to pack a duffel bag efficiently so more camping equipment will fit. He said he is also thankful for the Scout leaders who stood by him and to both his parents who encouraged him every step of the way.
Among those joining Fegade in an Aug. 18 ribbon-cutting ceremony at the completion of his Eagle Scout project were his father, several fellow Scouts, LSC-CyFair's President Dr. Audre Levy, Sebesta and Dr. Lewis.
"We are very proud of our relationship with the Scouts and look forward to working with future Eagle Scout candidates on additional projects that will preserve the natural beauty of this area on our campus and provide outdoor enjoyment for our community," said Dr. Lewis.
To discuss possible Scout projects, contact Dr. Lewis at Ted.A.Lewis@LoneStar.edu.