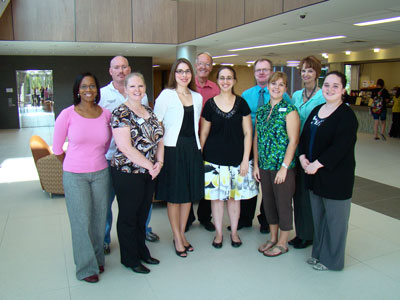 With a growing student population, Lone Star College-Montgomery is proud to welcome twelve full-time faculty members this fall, some of whom have previously served at the college as adjunct instructors.
Pictured above are from left to right are: Euradell Davis, David Griffin, Melissa Jackson, Elizabeth Pena, Stephen Coryell, Natasha Hunt, Dominic Beggan, Melissa Vander Stucken , Susan Spooner-Holland, and Ryeann McNeese. Not pictured are: Michelle Lewis and David Stancato.
With more than 13,000 students enrolled, Lone Star College-Montgomery is pleased to announce the addition of 12 new full-time faculty members for the fall semester. These professors, some of whom have been with the college previously as adjunct instructors, join the 149 full-time faculty members already part of the LSC-Montgomery family.
"We're privileged to have such highly-educated and well-rounded faculty members come aboard full-time to teach our students and lead them on a path to success," said Dr. Austin A. Lane, president of LSC-Montgomery. "We welcome them to campus and are proud to have them among our other devoted professors."
In the behavioral sciences, English, languages, and speech (BELS) division are four new faculty members, three of whom are joining as English instructors.
Teaching developmental English is EuraDell Davis, a former educator with Cypress Fairbanks Independent School District and Lone Star College-North Harris. She holds a master's degree from Houston Baptist University.
Also teaching developmental English is Elizabeth Pena, a former writing center coordinator and adjunct ESOL instructor at San Antonio College Writing Center.
"I have an open door policy, and I encourage my students to visit me in person," said Pena, who holds a master's degree from the University of Texas-Pan American. "Plus I want my students to know of the support they have from LSC-Montgomery to be successful."
Finally, Natasha Hunt, professor of English, has taught at LSC-Montgomery since January. She previously worked at the University of Southern California as a writing and honors instructor.
"LSC-Montgomery has excellent, highly motivated students," said Hunt, who earned a doctorate degree in English from USC. "One of my favorite classes to teach is English 1301, as I love seeing a shift in students' writing as they learn to evaluate the world around them critically."
Also in the BELS division is David Griffin, a former adjunct instructor in the college's fire science program. Griffin has been with Houston Fire Department for more than 10 years. He holds an advanced firefighter certification through the Texas Commission on Fire Protection and a master certification through the State Firemen's & Fire Marshals Association of Texas.
"I have a passion and love for this career and want to see this program grow and be one of the best in the state," said Griffin.
Joining the business and social sciences division as a political science instructor is Dominic Beggan, an extensive traveler from Belfast, Northern Ireland, who plans to use his international experiences to bring a global perspective to his government classes.
Beggan received his doctorate in political science from the University of New Orleans. He taught for more than 13 years at San Jacinto College and Lamar University. He and his wife of 17 years, "a beautiful Cajun girl from Lake Charles, La.," have a 22-month-old son.
Several faculty members join the college's natural sciences and health professions (NaSH) division, including three associate degree nursing faculty members: Michelle Lewis, Susan Spooner-Holland, and Melissa Vander Stucken.
Lewis received her master's degree in nursing from Athabasca University in Canada. She has taught nursing at the University of Calgary in Alberta, Canada, as well as served as a nursing simulation coordinator at Lee College. Spooner-Holland received her master's degree in nursing from the University of Texas Health Science Center and has been teaching at Northwestern State University. Vander Stucken received her master's degree in nursing from Walden University and has been an instructor in the vocational nursing program at Victoria College in Victoria, Texas.
Also joining the NaSH division is David Stancato, professor of physics, who received his doctorate degree from the University of California, Davis; and Melissa Jackson, a former adjunct instructor of biology at LSC-Montgomery. Jackson received her master's degree in biological and environment science from Texas A & M Commerce.
"I am really looking forward to being able to contribute more to my department and get the students fired up about science," said Jackson. "Our students learn in many different ways, so any time I can bring in techniques that stimulate them visually or appeal to the auditory or tactile learners, the better."
Finally, joining the theatre, education, art, humanities, math, and music (TEAM) division are Ryeann McNeese and Stephen Coryell, who will both teach developmental math.
McNeese previously worked as a supervisor in the math zone at the University of Southern Mississippi, the same university where she earned her master's degree.
Coryell, who has been teaching as an adjunct at LSC-Montgomery since January, has an extensive background in education as a math instructor, high school teacher, and principal. He holds a master's degree from the University of Nebraska-Kearney.
After attending the Kellogg Institute on Developmental Education this summer, Coryell hopes to utilize that experience and new knowledge to "reduce math and test anxiety for developmental math students."
LSC-Montgomery is located at 3200 College Park Drive, one-half mile west of Interstate 45, between Conroe and The Woodlands. For more information about the college, call 936.273.7000, or visit www.LoneStar.edu/montgomery.

With more than 69,000 students in credit classes for fall 2010, and a total enrollment of more than 85,000, Lone Star College System is the largest institution of higher education in the Houston area, and the fastest-growing community college system in Texas. Dr. Richard Carpenter is the chancellor of LSCS, which consists of five colleges including LSC-CyFair, LSC-Kingwood, LSC-Montgomery, LSC-North Harris, and LSC-Tomball, six centers, LSC-University Park, LSC-University Center at Montgomery, LSC-University Center at University Park, Lone Star Corporate College, and LSC-Online. To learn more visit LoneStar.edu.