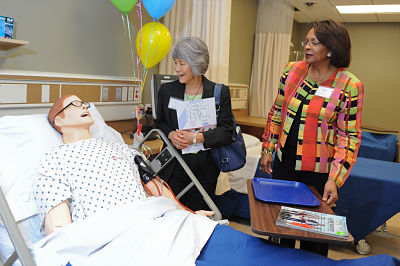 Lone Star College-North Harris recently held a grand opening ceremony for one of its newest facilities. The college's Health Professions Building, located on Red Oak Drive near Houston Northwest Medical Center, is the new home for LSC-North Harris's nursing and medical assisting programs. In addition, LSC-Kingwood has expanded its respiratory therapy offerings to include classes at the new location. A variety of medical career and technical training programs will be offered as part of the college system's continuing education department.
"I think it's very important for the community to see the impact that our college has on the area. Health care is one of the fields that the college makes a huge contribution. That, combined with our longstanding relationship with Houston Northwest Medical Center, made the creation of this facility a perfect fit for the college," said Dr. Steve Head, LSC-North Harris president.
Houston Northwest Medical Center is also looking forward to having easy access to well-trained students.
"Not only do we get to have Lone Star College students in our hospitals as a part of their education, but when they graduate many of them come to work for us, and for that I am so grateful. I can't say enough about the benefits of our partnership with Lone Star College. I truly understand the value of education and what it brings to both the students and to us as an employer." said Linda Mercier, CEO of Northwest Medical Center.
While the added space and proximity to Houston Northwest Medical Center offers new opportunities for students, one of the cornerstone features of the new Health Professions Building is a virtual hospital complete with state-of-the-art patient simulators. LSC-North Harris nursing students now have the advantage of receiving instruction and honing their skills in a strikingly realistic hospital setting.
The simulators and technology found in the virtual hospital allows faculty to stage many of the scenarios that a nurse would likely encounter. The simulators satisfy a range of training situations such as intensive care, labor and delivery, and home health. Some even offer voice capabilities for a more life-like experience. Infant simulators can also be found in the virtual hospital.
A second building at the site, also owned by LSC-North Harris, is home to faculty offices and includes space for medical tenants, some of which are already occupied.
"We have four physicians right now and plan to expand that further. This helps the college by allowing us to put money from renting office space toward the facility and instructional costs. It also strengthens the community by attracting new businesses to the area," added Dr. Head.
Registration and other student services are not available at the Health Professions Building, so individuals interested in the medical programs at LSC-North Harris should visit the main campus or one if its full-service centers, LSC-Greenspoint or LSC-Victory. More information is also available at 281.618.5410 or online at LoneStar.edu/NorthHarris.
Lone Star College-North Harris is located at 2700 W.W. Thorne Drive, one-half mile south of FM 1960 East, between Aldine-Westfield and Hardy Roads. For more information about the college, call 281.618.5400 or visit LoneStar.edu/NorthHarris.
With more than 69,000 students in credit classes, and a total enrollment of more than 85,000, Lone Star College System is the largest institution of higher education in the Houston area, and the fastest-growing community college system in Texas. Dr. Richard Carpenter is the chancellor of LSCS, which consists of five colleges including LSC-CyFair, LSC-Kingwood, LSC-Montgomery, LSC-North Harris, and LSC-Tomball, six centers, LSC-University Park, LSC-University Center at Montgomery, LSC-University Center at University Park, Lone Star Corporate College, and LSC-Online. To learn more visit LoneStar.edu.
###