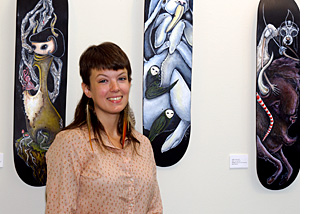 Jessica Rice said she never thought a painting class at Lone Star College-CyFair would make such an impact on her life. But it did and now she's excited and honored to be returning to the Bosque Gallery to show her work as a visiting artist.
"I went in to my first LSC-CyFair painting class with a very undetermined idea of what I wanted from the class. I thought I was just taking it for something sort of on the side, just for me, as a hobby," said Rice, who's always been an artist at heart. "I never would have guessed that class would change my entire plans for the future and what I am doing now."
It wasn't until she entered LSC-CyFair's art program and took Laura Fisher's class, that she said she actually learned, not only to paint, but what she could do with that knowledge. First, while in Fisher's class, Rice won first place for her self-portrait in the college's 2010 student exhibition. Then her final painting project caught the eye of a gallery owner and curator.
"It convinced him to invite me to participate in a show at his gallery downtown in the art district. That was my first show, and I have been doing them nonstop since," she said.
Now her paintings are featured in the "when the lights go out" exhibition this month at the LSC-CyFair Bosque Gallery along with LSC-Montgomery adjunct faculty member Kelley Eggert's sculptures.
Rice said her art is something she invented as a child, therefore it contains fragments of her childhood interests and fascination. The paintings in the Bosque Gallery exhibition will research the dreams, imaginations and fears of a child.
"I really want my art to help people understand the beauty that exists in all the contrasting themes in our lives and the world. The relationship between opposites is something that really interests me because it's really relevant in life if you dig a little past the surface of things," she said. "This is why my paintings are startling at first, maybe a bit creepy, but there is always some beauty and childlike innocence there."
Rice likes to exhibit ugliness and beauty, dark and light, fear and love, all opposites that cannot exist without the other. She hopes when people see her paintings, they feel that something can be dark and eerie, but know that it came from a beautiful place inside of her.
Participation in the college's gallery season opener is special to Rice because that's where her long-term goal to teach college level painting and her dream goal to open her own community painting school for children started.
"I feel it's almost an ode to the place where this all really opened up for me," said the visiting artist.
This fall Rice will start her student teaching in Cy-Fair Independent School District as a senior at the University of Houston-Downtown, where she is majoring in Early Childhood Education with a specialty in art. After she graduates with her bachelor's and is certified as an elementary art teacher, she plans to be accepted into UofH's fine arts program and eventually earn her master's in studio art/painting.
"I would love to get everything done now, but I do have two little girls, one of whom is starting her first year of school," she said. "And I want to be sure to have plenty of time for them and be the regular PTO mom, as well as a senior in college and an artist!"
In the meantime, while she will keep painting and evolving with each show her paintings are in, Rice said her art education is on hold. However, she now has the confidence to actually include art in her future plans.
"Before, it was sort of scary to think about a future in art, almost like once you have children to support, painting seems too unconventional and you definitely cannot live off of doing it," she said. "But ever since completing my classes at LSC-CyFair, I realized that I simply cannot live without painting, and my passion for teaching children hadn't faded, so I knew what I had to do. I'm really excited at the challenge of making art my career, doing what makes me happy and sharing this journey with my family."

Come see Rice's talent on display through Sept. 29 in the Bosque Gallery, located in the Center for the Arts building on the Barker Cypress campus at 9191 Barker Cypress. Meet both visiting artists at the 4:30 p.m. – 6:30 p.m. Sept. 15 reception.
For gallery hours and information, go to LoneStar.edu/bosquegallery or call 832.482.1038.