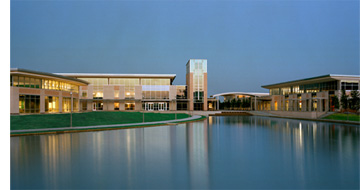 High school juniors and seniors, it's not too early to start thinking about college, so how about a preview of the convenient and affordable neighborhood campus of Lone Star College-CyFair?
LSC-CyFair's Student Outreach and Retention Department hosts both individual and group campus tours throughout the year as well as "College Days."
"College Days are your opportunity as a high school student to preview student life at LSC-CyFair," Director of Outreach and Retention Chris Timmerman said. "You will also have a chance to ask questions and to learn about the admissions, academic advising, registration and financial aid process during the 'What's Next?' session."
Students using the tour as their "College Day" are responsible for attaining all necessary paperwork from their respective high school prior to their visit as well as for following high school procedures relating to the College Day. Stop by the high school attendance or counseling office for more information.
"Students must be present for both the entire tour and the "What's Next?" presentation to get their "College Day" paperwork signed and stamped," said Timmerman. "And please allow approximately two hours for this visit."
Tours will begin promptly at 9 a.m. Wednesdays or at 10 a.m. the first Saturday of the month. Meet 10 minutes prior in the Center for Academic and Student Affairs Building, room 100.
For specific tour times and dates go to LoneStar.edu/cyfairtours and for other information, e-mail cfoutreach@lonestar.edu or call 281.290.3430.