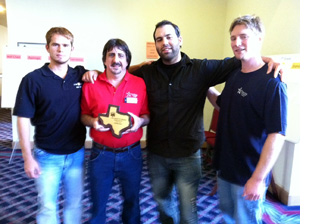 Lone Star College-CyFair's Chess Club team finished third in their first competitive effort at the recent 15th Annual Texas Collegiate Chess Championships held Oct. 29-30.
Having had only formed as a team a week prior to the tournament, they were content placing behind strong contingents from the University of Texas at Brownsville and the University of Texas at Dallas as well as ahead of Houston's San Jacinto College, said LSC-CyFair Associate Professor of Mathematics and faculty advisor Todd Thomas.
"Our top-rated player, Kavian Rowghani, soundly defeated San Jacinto College's Nephtali Diaz in Round 3 to secure our final placing," said Thomas. "Michael Cortez and Matthew Trujillo fought hard each and every round, culminating in their epic battle against each other in Round 5."
Also competing in this tournament were International Grandmasters and International Masters from around the globe. Among the Grandmasters in attendance were Ioan Chirila, Julio Sadorra and Valentin Yotov as well as Grandmaster Timur Gareyev, who is among the top 125 players in the world and is currently the highest-rated player in the United States.
This tournament proved to be particularly memorable for Rowghani, who in Round 5 was pitted against Chirila and unfortunately missed a rare 17...Bg4 play, said Thomas.
"It is not every day that one gets to accomplish an unstoppable double check against a Grandmaster," said Thomas. "The fact that one of our team members had such an opportunity to scare a Grandmaster, speaks to how hard we played and how much fun we had. I am very proud of our team and I am hoping to build upon our success in the chess arena."
For information on the Chess Club, contact Thomas at Todd.Thomas@LoneStar.edu or 281.290.3504.